Strong uptake on Mimaki Tx300P from both the education sector and within the textile printing industry.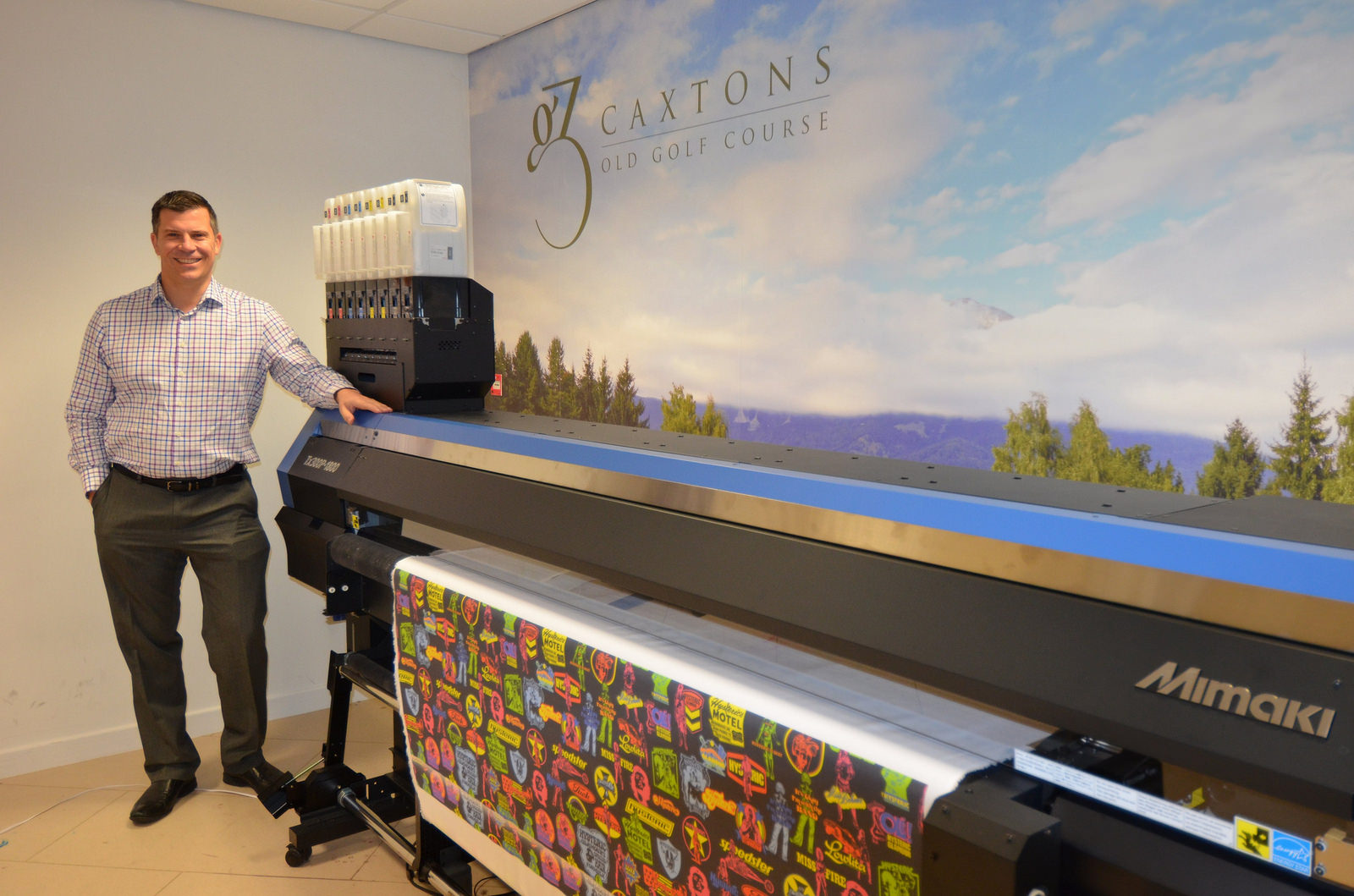 Hybrid's National Sales Manager - Textile & Apparel, Stephen Woodall with the Mimaki Tx300P-1800 printer in the company's showroom.
Following its unveiling during ITMA Milan, the popular Mimaki Tx300P-1800 has put the manufacturer at the forefront of direct-to-textile printing bringing a flourish of UK & Irish installations of this versatile printer.
Mimaki's UK & Ireland distributor, Hybrid Services has seen strong uptake of the Mimaki Tx300P from both the education sector and within the textile printing industry, as the company's National Sales Manager for Textile and Apparel, Stephen Woodall explains;
"The Tx300P-1800 is flying since its launch and we've made significant sales resulting in stock shipping out as soon as it arrives in our warehouse. We've been busy installing Tx300s into various educational institutions for the start of the new academic year who have waited patiently for the right printer to upgrade their existing Mimaki TX2 printers, and with the product now shipping with competitively priced pigment, reactive, disperse and dye sublimation inks, we envisage this to continue into 2017 and beyond."
The Mimaki Tx300P-1800 inkjet printer is ideal for printing high quality output on all types of fabrics, including thicker and textured materials. This is made possible as the print-head height is adjustable from 2-7mm. The increased speed at which the ink droplets are fired also ensures accurate ink placement with the high head gap. The Tx300P is designed as an entry-level model and with its compact footprint, fits perfectly in places with limited floor space, such as design studios or school facilities.
The Mimaki Tx300P-1800 high quality, versatile, direct-to-textile printer."Mimaki's 4 colour pigment inks are proving superior to any alternatives on the market in terms of colour gamut, which will be further enhanced with the release of an 8 colour set by the end of the year," continues Woodall. "Independent reseller tests have shown that their wash fastness and abrasion resistance is industry leading and this, coupled with print speeds of up to 68m² per hour, are making the Tx300P an attractive proposition."
Customers can arrange a demonstration of the Mimaki Tx300P-1800, or any of Mimaki's other products at Hybrid's showroom by telephoning 0044(0)1270 501900. Additionally, an extensive selection of Mimaki Textile & Apparel products are available to view across the UK and Ireland through Hybrid's specialist Textile and Apparel resellers.
Further information can be found by visiting www.hybridservices.co.uk