Company raises $25m on admission.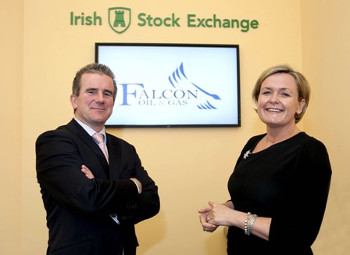 R to L Deirdre Somers CEO Irish Stock Exchange welcomes Philip O'Quigley, CEO Falcon Oil and Gas to the Irish stock exchangeThe Irish Stock Exchange ("ISE") welcomes Falcon Oil and Gas Ltd ("Falcon") to the Enterprise Securities Market ("ESM"), the Irish Stock Exchange's market for growth companies.
Falcon is an international oil and gas company engaged in the acquisition, exploration and development of conventional and unconventional oil and gas assets. The Group's head office is located in Dublin and its principal interests are located in two major underexplored basins in Australia and South Africa; and in Hungary.
Falcon raised gross proceeds of US$25m on admission and has commenced trading on the ESM, with a market capitalisation of €131.8m. Falcon is the first company to be quoted on the Irish market which has an existing listing in Canada on the Toronto Ventures Exchange (TSXV). Its admission to the ISE's ESM coincides with its admission to AIM in London.
The admission of Falcon to the ISE brings the number of companies quoted on the ESM market to 24. Falcon's ESM ticker symbol is FAC.

Philip O'Quigley, speaking at the ISE said that the capital raised from this placing would allow Falcon to pursue its strategy of building on its internationally diversified portfolio of unconventional oil and gas assets. He added that "the ISE's international membership base and the facilitation of a euro quotation enables Falcon to attract euro-based private and institutional investors from Ireland and overseas. With our corporate location now firmly based in Dublin, a quotation in Ireland makes sense and should enhance the profile of Falcon among the international investment community."
Deirdre Somers, said: "We are delighted to welcome Falcon to the ISE's ESM market. The ISE's membership base includes a network of Irish and international investment banks and stockbroking firms which will facilitate the delivery of direct order flow and strong liquidity in Falcon's shares on the Irish market. We look forward building a strong relationship with Falcon in the future."
Davy is acting as ESM Advisor to Falcon.
Further Information
Ailish Byrne
Head of Public Affairs and Communications
Telephone +353 1 617 4200
Mobile + 353 87 2380265
This email address is being protected from spambots. You need JavaScript enabled to view it.
www.ise.ie
Press Release from the Irish Stock Exchange - Thursday, 28th March 2013
Follow us on Twitter - @DigiPrintNews
Like us on Facebook www.facebook.com/dpnlive - (click the 'LIKED' button/top of page as well)