Company raises €365 million as a result of the listing.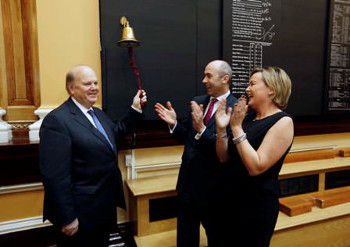 Minister for Finance Michael Noonan rings the bell of the ISE at the launch of Hibernia REIT watched by Kevin Nowlan CEO Hibernia REIT and Deirdre Somers Chief Executive of the ISEThe Irish Stock Exchange ("ISE") welcomes Hibernia REIT plc ("Hibernia REIT"), whose shares began trading on the Main Securities Market (MSM) today.
Hibernia REIT has raised €365m from Irish and international investors as a result of listing on the Irish market.
Hibernia REIT is the second REIT (real estate investment trust) to be launched in Ireland and to list on the ISE. Its shares will trade under the ticker HBRN and it is included in relevant ISEQ indices.
The Company's stated objective is to assemble a portfolio of attractively-located, primarily institutional-quality, income-producing properties in Ireland, mainly in the commercial space and in the greater Dublin area.
Deirdre Somers, Chief Executive of the ISE, said:
"This is the fourth major listing on the ISE's equity markets in recent months and we are delighted to provide a platform to allow investors in Ireland and around the world to invest in Hibernia REIT.
The addition of Hibernia REIT is yet another example of the strong appetite among investors for equity investments in Ireland and Irish businesses and also highlights the effectiveness of Ireland's new REITs legislation".
Kevin Nowlan, Chief Executive of Hibernia REIT, said:
"We believe a unique opportunity exists in Ireland to build an attractive property investment portfolio in light of current property values, the supply of assets on the market and the outlook for rents. We intend to create both sustainable income and strong capital returns for the company and its shareholders.
We are pleased to be listing on the Irish Stock Exchange. Dublin is a highly attractive place to do business and we acknowledge the support of the Irish government for introducing REIT structures in Ireland and the ISE for its support in enabling our listing."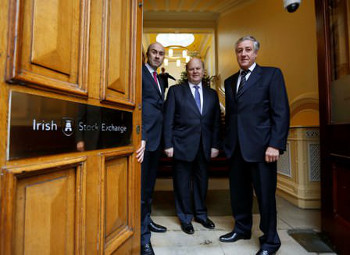 L-R Kevin Nowlan CEO Hibernia REIT Michael Noonan TD Minister for Finance and Danny Kitchen Chairman Hibernia REIT at the ISEGoodbody is acting as equity sponsor to Hibernia REIT.
Further Information
Ailish Byrne
Head of Public Affairs and Communications
Telephone +353 1 617 4200
Mobile + 353 87 2380265
This email address is being protected from spambots. You need JavaScript enabled to view it." mce_' + path + '\'' + prefix + ':' + addy93993 + '\'>'+addy_text93993+'<\/a>'; //-->

About REITs
The ISE has published a Guide to REITs which is attached and also available on the ISE website.
A REIT is a publicly-quoted company which has as its main activity the ownership and management of property-related assets such as retail units, office space or industrial units and warehouses.
New to Ireland following the enactment of REIT legislation earlier this year, Irish REITs allow investors to directly hold property through shares. This makes REITs tax-efficient investments that also have the benefit of transparency and liquidity from their quotation on a regulated stock exchange – such as the Irish Stock Exchange (ISE).
REITs are common in 35 countries around the world. In Europe 13 countries operate REITs including Ireland, the UK, Germany, Netherlands, Italy and Belgium.
Press release by The Irish Stock Exchange Wednesday, 11th December 2013
Follow us on Twitter - @DigiPrintNews
Like us on Facebook www.facebook.com/DPNLive - (click the 'LIKED' button/top of page as well)