Adding a euro quotation for investors.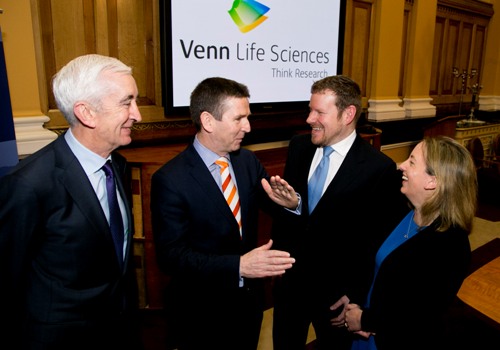 (L-R) Padraic O'Connor Chairman ISE Tony Richardson CEO Venn Life Sciences Jonathan Hartshorn CFO Venn and Orla O'Gorman Head of Equities ISE Venn Life Sciences, the growing Contract Research Organisation (CRO) has joined the Irish Stock Exchange's (ISE) Enterprise Securities Market (ESM). Venn Life Sciences is utilising the ESM's dual listing regime with the London Stock Exchange's AIM to enable Irish and international investors access their shares through a euro denominated quotation.
Venn Life Sciences, which has a market capitalisation of €19m, provides drug development, clinical trial management and resourcing solutions to pharmaceutical, biotechnology and medical device organisations. With operations in France, Germany, the Netherlands, UK and Ireland, Venn Life Sciences also has resources across the globe working on clinical studies for the company.
Venn Life Sciences joins other ISE listings operating in the pharmaceutical and biotechnology sectors – Malin Corporation, Mainstay Medical and Merrion Pharmaceuticals.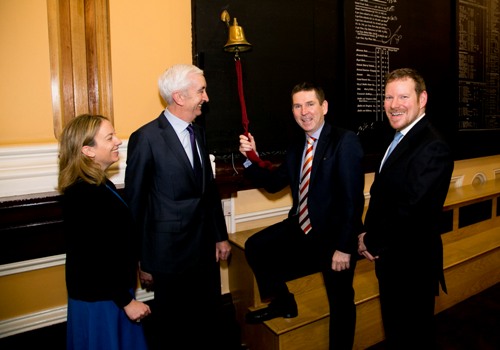 (L-R) Orla O'Gorman Head of Equities ISE Padraic O'Connor Chairman ISE Tony Richardson CEO Venn ringing bell and Jonathan Hartshorn CFO Venn On Venn Life Sciences' admission to the ESM, Deirdre Somers, ISE CEO, said:
"We are delighted to welcome Venn Life Sciences to our equity market. Venn Life Sciences is an ambitious company with significant plans to expand throughout Europe. It is great to see another company in the pharmaceutical and biotechnology sector choosing to list on the ISE. "
Venn Life Science CEO, Tony Richardson, said:
"Joining the Enterprise Securities Market was an easy decision for us. Given our existing listing on AIM, the process to add an ESM quotation was very straightforward. Having a euro quotation through the ISE will enable us to expand our investor base by accessing both euro and sterling pools of capital and facilitate future growth."
Further Information
Ailish Byrne
Head of Public Affairs and Communications
Telephone +353 1 617 4200
Mobile + 353 87 2380265
This email address is being protected from spambots. You need JavaScript enabled to view it.
www.ise.ie
Press release by the Irish Stock Exchange Monday, 18 January 2016