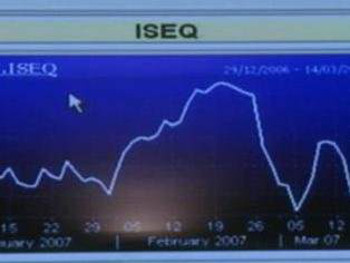 The trend for some Irish shares was marked by a slight upward move, principally led by companies such as CRH and Aminex. However, shares fell elsewhere as investors continued to show concern about the size of the loan book from the European Central Bank to more than 500 banks.
CRH rose 3.4 per cent to €14.50 as the company continued to reap the benefits from a move to the London stock exchange and inclusion in the FTSE 100. It was also boosted by further good news coming out of the States on the US housing market.
Aminex advanced 17 per cent to 4.3 cents as non executive director Derek Tughan purchased 1,350,000 shares in the company. He now holds a total of 5,192,698 shares.
Smurfit Kappa took a tumble of 2.6 per cent to €4.70 courtesy of a warning by Goldman Sachs that the slowing world economy may impact on the demand for paper packaging. Petroceltic also lost some of its recent gains, dropping 5.3 per cent to 9 cent.
The biggest loser on the Dublin exchange was Irish Life & Permanent which collapsed 20 per cent to 2 cent after Fitch placed the company on rating watch negative.
Elsewhere, European stocks fell as lenders sought additional funds from the ECB, more than economists had predicted which reduced optimism that the debt crisis would be contained.
The STOXX Europe 600 Index closed down 0.5 per cent at the close of trading even after the ECB agreed to provide three-year loans to euro-area banks to keep credit flowing to the economy.
National benchmark indexes fell in 14 of the 18 western European markets.
Across the water the UK's FTSE 100 dipped 0.6 per cent, while France's CAC 40 moved down 0.8 per cent and Germany's DAX declined 1per cent.
Bad results announced by Oracle sent a shiver through the market. German-based rival SAP lost nearly 6 per cent, which was the company's largest decline since October 2009 with competitor Software AG falling 4.9 per cent.
Konecranes, the Finnish manufacturer of container cranes, dropped 3.6 per cent after saying that it would have to restructure European operations and cut 100 jobs.
French publisher Lagardère Group rose 1.9 per cent after reports surfaced that the owner of the Europe 1 radio station had been in discussion with California-based private-equity firm Hellman & Friedman to dispose of its 20 per cent stake in Canal Plus for an estimated €1bn.
In London, many blue chip retailers had sobering news from the high street, with Marks & Spencer and Sainsbury both down around 2 per cent. A major casualty was chocolate producer and retailer Thornton's which plunged 37.5 per cent after issuing a profit warning.
Copyright © 2011, DPNLIVE – All Rights Reserved