By Ellen Neumann
13th April 2012
---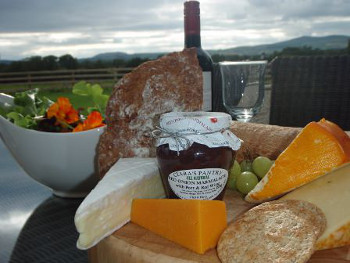 Ciara O'Dowd grew up in the hospitality industry.  Her family owns and operates Woodlands Country House in Killinierin, Gorey, Co. Wexford, a 5-star guesthouse renowned for its scrumptious food and gracious hospitality. She worked with Glanbia Foods as a systems administrator for many years. She married Paddy O'Dowd and together they started their first production line: that would be their children: Cein age12, Aoife age 6, Darragh age 9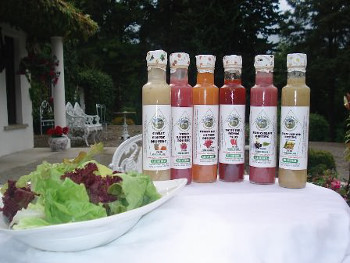 Her passion for food began at an early age and for many years she has been producing artisan products at home as gifts for guests, family and friends.  Everybody got a hamper for Christmas - no surprises there! Because of the encouragement she received and the demand for home produce, she decided to develop a small artisan food business last year with just a couple of her favorite products.  As you can see, she has a lot of favourites!  There are now over 24 products in the range. Ciara refers to herself as an accidental entrepreneur. She lives in the Sunny South East Coast of Ireland, an area renowned for its divine fruit growing.
With a commercial kitchen at her disposal at Woodlands Country House, the temptation to start her own small business was impossible to resist, and "Ciara's Pantry" producing for Ciara's Artisan Foods Ltd was born. Ciara registered with the local health board and took the necessary environmental and food safety courses drew up a quality manual and HACCP plan (Hazard Analysis and Critical Control Point) and began developing her range of products. When she actually looked at what was on offer in the specialist food shops, she was amazed at the quantity and quality of imported foods, which many people perceived to be Irish, and indeed a lot of the produce was actually mass produced and not of the best quality at all. She developed her brand, designed her packaging, and did numerous high profile product tastings around the county to give her brand sufficient exposure.
A local business started at a Country Market would be the first to sell her products. Ciara's business grew as two local artisan shops immediately contacted her to supply them with her products. Following feedback from their customers, more shops came on board by word of mouth. It is a business that is growing "organically".
Ciara entered and won a "Dragons Den" style competition in Wexford, which raised her profile and gave her great media coverage. She now supplies shops in the South East and her business is continuing to expand in a natural manner. Ciara is currently working to expand to a larger premise that will be purpose built to increase volume and meet demand while maintaining the integrity of the product and keeping it pure and free from additives, powders, stabilizers, artificial sweeteners and over processing.
All ingredients are sourced, to ensure freshness and quality. Only natural ingredients are used, and indeed some are just freshly picked from her extensive garden, in tandem with the seasons whenever possible. Gardening is her second love and the whole family is involved in maintaining these wonderful gardens. Ciara, Paddy and their three darling children are always out and about in the family gardens although picking currants can become a little monotonous, it most certainly is the "Good Life". Indeed she awoke one morning in September to be met by a horse outside the kitchen door - the horses had a little jail break from their paddock and had eaten whole four baskets of the previous evening apple picking much to the children's dismay!  Paddy helps with the gardening side of things as much as possible, builds and mends the fences, He is of course the chief taster of all the products; an enviable job indeed !   Ciara uses vegetables and herbs fresh from her garden whenever possible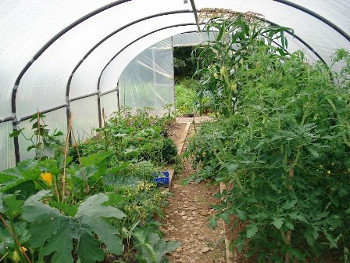 Ciara's Pantry produces a delicious range of all natural products made from fresh ingredients, all sourced to ensure freshness and quality. Absolutely no artificial colours, flavorings, artificial preservatives, sweeteners, additives or powders are used.  Traditional methods produce the sweet and savoury jellies, which in the past were considered one of the crowning glories of the dining table because of their versatility and convenience.  These are made in the old fashioned open pot, in small batches, and dripped through muslin overnight, to maintain the quality, clarity and flavor. The jellies are made from real fruits, vegetables and pectin stock from apples to give a wonderful smooth consistency, unlike most commercial jellies which are made from powdered pectin's and flavouring. Many may remember their grannies turning stools upside down and tying muslin to make crab apple jelly! …well it's still pretty much the same today.  You most likely would not find Char-grilled pepper Jelly, Jalapeno or even balsamic jelly was ever on Grannies' old school menu!
Ciara's Pantry offers a sensational range of savoury and sweet jellies. The savouries enhance cheeses, meats, the sky is the limit! The sweet jellies are bursting with zingy fresh fruity flavour.
A new and exciting selection of dressings is made from only the best natural ingredients and pro-biotic cider vinegar which is full of health benefits. Enjoy flavour combinations that will make every day a salad day for the whole family. Dipping sauces may also be mixed through with mayonnaise or cream cheese for variations.  These are all totally natural in beautiful vibrant colours, Cheeky Chilli & Ginger, Basil & Lime with Pine Nuts, Raspberry Salad Dressing to name but  a few.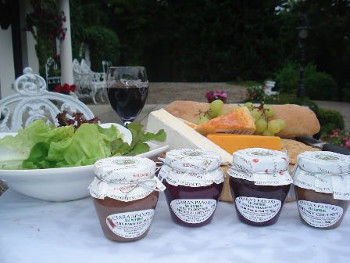 A range of chutney's will delight you and warm up any  evening with a classic balance of sharp and sweet,  together with the warmth of  spices that will  remind you of open log fires, Christmas, days gone by and will leave your taste buds tingling all year round. These chutneys are made from the freshest ingredients as well, harvested from the garden at the peak of perfection. Some chutney is made with wines and port. Only the highest quality ingredients are used. One even takes two days to make but the result is pure class in the world of chutney, which makes it stand apart from the rest.
Fruit vinegars made with cider vinegar rely solely on the preservative qualities of the sugar and vinegar to maintain the quality of Fruits. This allows the finished product to taste simply and sublimely of fruit.
Of course Ciara's Pantry offers traditional preserves such as Raspberry & Apple, Blackcurrant & Apple or Four Fruit marmalade to grace your table everyday. Delicious combinations of Fruit to give an intensely flavoured spreadable jam! For the more adventurous, there is Raspberry with White Chocolate and Kahlua which is simply delicious with chocolate torte. A beautiful range of smooth, delicate curds made from Free Range Eggs are currently in development. Lemon Curd, Coffee Curd and Lime Curd will be available in stores soon and each has fabulous recipes which will be available on Ciara's Pantry website (www.ciaraspantry.com)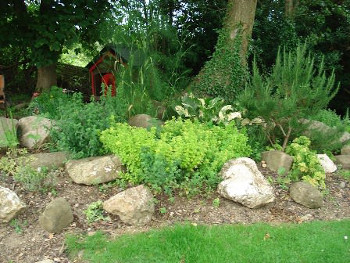 The possibilities are endless but the entire mission of her company is as follows: "everything must taste as if it was made in your own kitchen by a master chef!" Believe me, they do!  Ciara hopes to grow and diversify in the coming year and expand into new markets. She also hopes to develop an online sales business. Her range is new and exciting. While they are a niche product, they are just incredible to taste and enjoy; a true gastronomic delight. All Products are made in small batches for the true connoisseur, every mouthful a testament to the work and love that has gone into each handmade jarful.
Ciara's passion for food is truly reflected in each jar.
At Ciara's Pantry they fervently believe that using natural ingredients sourced locally produce mouth-watering tastes to compete with the best food-producing regions of the world. Ciara's Pantry is located at Killinierin, Gorey, Co Wexford, Ireland.
Using local ingredients produced with nature's best intentions helps to boost Ireland's agri-food industry and protect local jobs. If you'd like to help put Ireland on the gourmet map by stocking Ciara's products, all contact details are on the website.
*A special thanks to Anne Devereaux
Email                This email address is being protected from spambots. You need JavaScript enabled to view it.
Twitter               https://twitter.com/#!/search/realtime/ciaraspantry
Facebook          http://www.facebook.com/ciaraspantry?sk=photos
Copyright © 2012, DPNLIVE – All Rights Reserved