by David Tiernan
---
In 1987 we won supplier of the Year Award from Drogheda and Dundalk Dairies, an independent dairy involved in liquid milk for bottling and door to door sales – an indicator of a very high quality milk production. We did consider cheese making then but our twin sons were just babies so we decided to focus all our time and energy on them.
---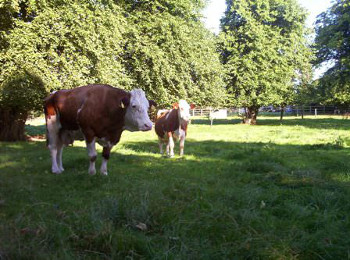 In January 2004 it became apparent that milk prices were falling. It was becoming more difficult to make a living from the dairy and our future looked bleak. We had by this time introduced the Montbeliarde cow from the Jura region in France – a dual purpose cow with excellent quality milk, replacing the Holstein Fresian. In France their milk is used exclusively in the making of Comte, Gruyere and other mountain cheeses.
My wife Margaret and I visited the region in France to see if it were possible to make a similar cheese here in Ireland. We were very well received and after a lot of discussion we ordered what equipment would be needed.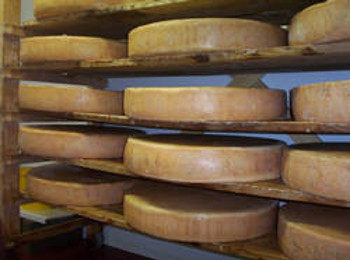 On our return home we set about converting an old stone building in where the twins' great-grandmother would have made her butter! She was a dairy instructress many years ago. A chance encounter at a farm we visited in France brought us our cheese maker, Julien Rouillaud, who helped us make the first cheese in July 2004. I must admit to being hooked on the actual process of turning our milk into huge 40 kg wheels of cheese.
In our first year we made a small amount, less than 1000kg as we were not sure how it would turn out. Julien however proved himself to be an exceptionally competent and skillful cheese maker. At only 24 years of age he had an unbelievable knowledge of his craft. Without him I do not believe our cheese would have been as good as it is.
As we only make Glebe Brethan in the summer months when the cows are eating grass it was possible for Julien to return the following year and get production started again. This time I paid particular attention to everything he was doing and continued cheese making when he returned to his home. The first week was extremely stressful – lots of telephone calls to Julien were the norm every week. As time went on I became more confident and began to enjoy the process. Julian is still in regular contact with us.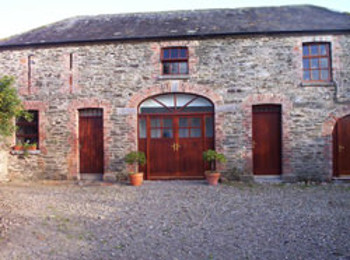 It really is a wonderful feeling each morning walking the cows up to be milked and knowing that by midday we will have two more wheels of beautiful cheese in our cellar. And you never know who is going to be eating it! In the past few years our cheese has been presented to both Prince Charles while he was in Belfast and to the Queen, on her visit to Dublin.
As the years have moved on we have changed over from direct sales of our cheese at Farmers Markets. They were both time consuming and exhausting. We now supply a few distributors – Sheridan's and Traditional Cheese Company. We still supply a number of shops and restaurants ourselves which is good to get feedback from the public and the chefs.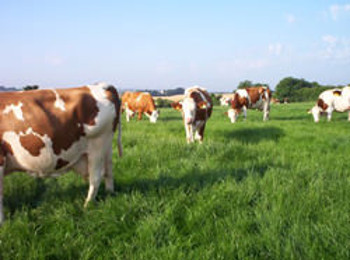 We are increasing production every year, but only at a pace that feels comfortable. Also the export market is important to us, with cheese going to the UK and Holland on a regular basis. A few weeks ago we took part in a Bord Bia promotion in Selfridges in London along with a lot of other small high quality Irish food producers. Thanks to the magnificent work of the Bord Bia London staff we are now listed as one of their cheese suppliers. This is a wonderful opportunity for a small business like ours. Thanks to them and Sheridan's cheesemongers we now have the chance to grow our export market.
As Margaret and I are the third generation of Tiernans to work this farm we are very proud of our cheese. I am sure my grandmother gets a kick out of it too! For now it seems as though our sons will pursue separate careers so we will keep going ourselves for another few years anyway.
Please see website for list of awards won.
Tiernan Family Farm
Glebe House, Dunleer, Co.Louth.
E-mail: This email address is being protected from spambots. You need JavaScript enabled to view it." mce_' + path + '\'' + prefix + ':' + addy92446 + '\'>'+addy_text92446+'<\/a>'; //-->
Twitter: glebe brethan