by Hannah Bolger
People are keen to connect with where their food is coming from
---
Situated in Wicklow, the Garden of Ireland, in one of the most idyllic places you can imagine, Waterfall Farm has been in the Keegan family for many, many generations. The Keegan's have always been connected to the land; farming is the blood that runs through their veins. Ever since Michael Keegan, the current Waterfall Farm owner was a little boy, being a farmer was all he wanted. Just like his father, his grandfather, his great-grandfather and all the other generations of Keegan's that have farmed this beautiful mountainous farm at the foot of the breath-taking Glencree Valley. He shares that desire with his wife Hannah and together this young couple with their newborn daughter Eleanor work the family farm.
---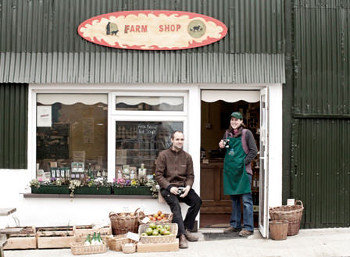 The old traditional farmhouse on Waterfall Farm has reputably been there for around three-hundred years. Although additions have been made since the original build, it still has its thick walls and short doors from years ago! It's this traditional look combined with the spectacular beauty that has lent the farm to so many television commercials and films. The most famous film shot on the farm in recent times is "P.S I Love You" starring actress Hilary Swank. The farmyard, although having developed and progressed in many respects, is dotted with traditional sheds and outhouses. It is in one of these sheds that Michael has the old Deutz D15 tractor which was the prize that his grandfather Charlie Keegan received when he won in the World Ploughing Championships of 1964 in Austria. Not only was Charlie the first ever Irish man to win a World Championship, he was the first ever Irish man to bring a World title home. A huge achievement and it was thirty years before another Irish man, Martin Kehoe, repeated the feat. It is this sense of history combined with stunning scenic countryside that welcomes you when you walk through the gates of Waterfall Farm.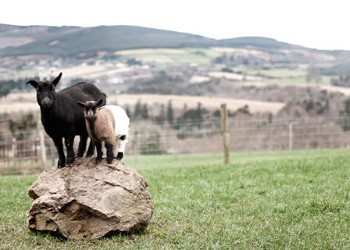 Standing at the crossroads where the farm is located you can look out over the lush green fields, manicured hedges and fences maintained to perfection by Michael. These mountainous pastures overlooking Powerscourt waterfall are perfect grazing grounds for Michael's pedigree Lleyn sheep. Several years ago Michael discovered the Lleyn breed of sheep and having done considerable research on them he now farms a flock of 350 ewes. "The Lleyns are good mothers, they are easy kept and hardy which is all very important in the tough economic times we find ourselves in," said Michael. "They have a superior quality meat and taste which is much sought after.
The Keegan's sell their lamb directly to the consumer and take orders for whole and half lamb through Waterfall Farm Shop. The lamb is raised on grass and clover, processed in a local abattoir and bagged, labelled and presented in a cardboard box ready for the freezer. They find that selling the lamb directly to consumer has benefits both for them and the buyer. Michael makes the point; "People want to know where their food is coming from and are keen to support local food producers. They visit the farm where their lamb was reared and meet directly with the farmer. That is important, for them and for us".
Seeing a desire in the market for good quality locally produced food Hannah and Michael decided to open a farm shop.  With traceability and sustainability being so relevant to the consumer they felt it was an ideal venture for the farm. Not only that, but many people want to visit the countryside and understand where their food is coming from. So in addition to the shop they also decided to open the farm up to the public giving people an opportunity to bring their families and experience a working farm in action.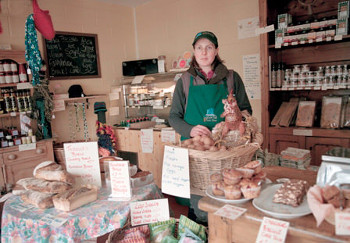 County Wicklow is full of artisan food producers, many of whose products are on the shop's shelves as well as produce coming directly from local and Irish farmers. When buying your produce from a farm you can expect to get the freshest of products, like the fresh eggs, bread and garden vegetables that the Waterfall Farm Shop stocks. Much of the produce is sourced locally such as home-grown peaches and local raspberries and a strong emphasis on quality with products such as Kilbeggan Porridge, Janet's Country Fayre and Wicklow Farmhouse Cheeses. As Hannah explains; "Both of us are committed to quality, sustainability and seasonality, as are the producers and farmers we work with. We know where every product comes from and the story behind it, and I am happy to share that story".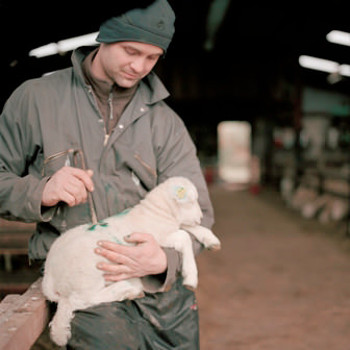 Beside the shop you will find cute little Pygmy kid goats and colourful hens and, depending on the time of year, some mares and foals. Michael's flock of pedigree Lleyn ewes have their lambs in the spring. All of these animals are available to visit free of charge as Michael and Hannah want to encourage people to come and experience farming life. The children especially are delighted when they visit the goats and baby lambs, something which can be a rarity for a city or town dwelling child. With its close proximity to Dublin, a 30 minute drive, and only a stone's throw from Enniskerry village Waterfall Farm is readily accessible to those wishing to experience the country way of life on a working farm.  Michael and Hannah also run many different farming and country craft courses more details of which can be found on their website www.waterfallfarm.ie/
The demand for the Waterfall Farm concept of learning about rural life and experiencing farming is certainly there. Food buying is becoming more and more personalised. Buying dinner directly from the farm holds an appeal that is growing and increasingly people are keen to connect with where their food is coming from. The appetite for sourcing your food direct also encourages people to reconnect with Irish rural life. In both these aspects, the Waterfall Farm, with the young Keegan family at the helm, is well placed going into the future.
Waterfall Farm Shop is open at the weekends from 10am to 5pm and more information can be found on their website and Farm Blog at www.waterfallfarm.ie/
Contact details;
Michael and Hannah Keegan
Waterfall Farm and Waterfall Farm Shop,
Enniskerry,
Co. Wicklow,
Ireland
This email address is being protected from spambots. You need JavaScript enabled to view it.
Hannah (+353) 87 264 9537
Michael (+353) 86 384 1046
Twitter @waterfallfarm
Facebook; www.facebook.com/waterfallfarm
Youtube; www.youtube.com/waterfallfarm
Audioboo; http://audioboo.fm/waterfallfarm
{jcomments on}