Artisan producers of a delightful range of handmade chutneys, preserves, and dressings.
---
We can all dream – of what we would like to be, or do, or where we would like to live. For many of us these are just fantasies, enjoyable at the same, but often out of our reach. However, if you had the same dream for years and the opportunity of making it become a reality came along, would you have the courage to reach out and grab it? Here is someone who did, and her dream just gets better and better.
---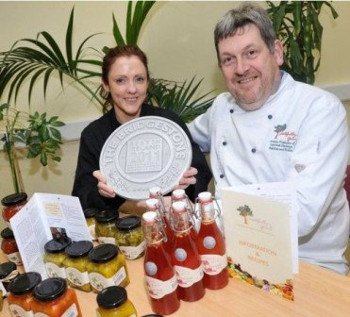 Bridgestone Award Audrea Hassett had always dreamt of being a chef and has been passionate about food since she can remember, but she married young and found herself at home, a busy wife and mother. Audrea didn't give up this dream though and eventually decided to do something about it by enrolling on a professional cookery course at a catering college.
This isn't a lady that lets grass grow under her feet and when she met professional chef Norbert Thul who shared the same enthusiasm for home-grown and natural ingredients, it was obvious this was the perfect match to create culinary delights.
Tastefully Yours was born out of yet another passionate conversation they had about food and the pleasure of turning local raw ingredients into something special. The idea of designing good quality, delicious and somewhat different chutneys has been with Audrea and Norbert for a long time. They feel that there is nothing quite as dynamic and intriguing as the world of food and that now is the perfect time to instil some of their infectious passion and their love of food in visitors at the local farmers market and the wider public.
Sweet Chilli Sauce Two years later, Norbert and Audrea are highly respected new wave producers of Irish Gourmet Chutneys, Relishes and Pickles. Their lovely business has been receiving acclaim at the highest levels since it was established in 2009. These two are working colleagues and best friends, and that good energy comes across in everything they do and make. The pair, who met when Norbert was lecturing in the catering college where Audrea studied professional cookery, had both always fancied a shot at their own business. Audrea's love of recipe development stemmed from her own passion for food, and this was added to Norbert's inspirational teaching and his years of experience as a working chef. Today they are a force to be contended with in the artisan production industry of Ireland.
All Tastefully Yours products are created in the small kitchen beside the cute shop where products can be purchased. The divine smell of a pot of chutney being made will entice you in the door! Audrea and Norbert both share a serious passion for getting it absolutely right, and experiment with flavours and tastes for ages before hitting on the right recipe. All items are made in small batches – as Audrea says, some things work made in larger amounts and others don't. So no compromise here on taste and quality for the sake of being able to make more jars at any one time.
Some chutney's are produced in only three or five jar batches and the maximum is 25 jars at a time. That's small, by anybody's standards! But as a result, the chutneys and preserves are all perfectly balanced in flavour and texture. Recipes used here are invented, tested and worked on till the pair is sure they have the right blend. Some recipes are handed down from family; others are simply new creations dreamed up with inspiration from what is in season.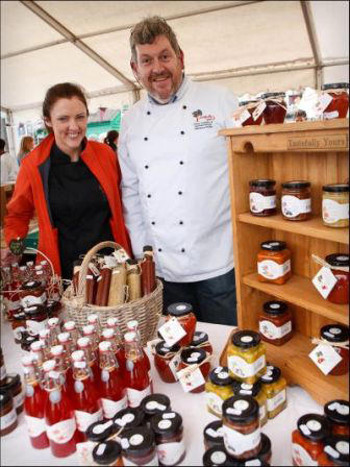 Audrea and Norbert Bread and Butter Pickle is a grown-up sandwich filler – on buttered bread as the name suggests or to garnish a burger. You can use this to pep up a potato salad, where the savouriness adds something to the mayo base. Cheeseboard Chutney is a combo of figs, apricots, and caramelised onions and matches the wonderful cheeses of Ireland. If you like spice, the Apple and Chilli has a serious kick to it – a good accompaniment to mild curries and we love it on ham sandwiches too. Carrot Chutney is bright orange, with a shreddy texture. Audrea suggest a lovely potato cake recipe with this as an ingredient, to make the finished cakes spicy and crunchy. And the big favourite at Tastefully Yours is the Sweet Chilli Sauce, a South-East Asian inspired, glowing amber sauce flecked with chilli pieces. Use this to accompany any Thai dish, or for dipping spring rolls, deep-fried crispy battered vegetables or prawns, chicken satay sticks and even a bowl of home made chips. We think it's irreplaceable in the kitchen cupboard!
Vegetables are sourced with consideration and always local. Some come from small holders who may only have a certain amount of one sort of vegetable, and this will be turned into seasonal special chutney by Audrea and Norbert. Each chutney made here is a celebration of the ingredients it includes. At the shop, painted wood shelving and a big timber dresser displays all products in their uniquely designed packaging.
Tastefully Yours is a very well recognised brand nationally and has won many national and regional awards. These awards include the Megabytes Newcomer of the Year award in 2010, the Best in Ireland Bridgestone Award for 2011, the Women in Business for Food Excellence Award in 2011, the Good Food Ireland Newcomer of the Year Award for 2011 and the Best in Ireland Bridgestone Award for 2012. And only earlier this month, Audrea was presented with an award for "Outstanding Food Business" by the local Enterprise Board.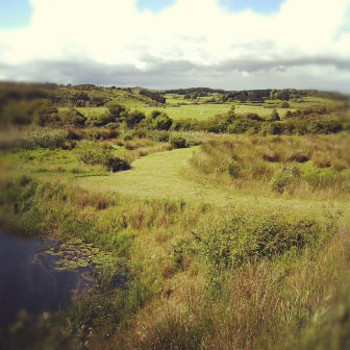 Countryside Norbert and Audrea are artisan food producers in the true sense of the word. When asked to define the term 'Artisan,' Audrea quotes the author of the Bridgestone Guide, John McKenna, and explains that artisan food encompasses a person, a place, a product and a passion. A kind of personal integrity, pride without arrogance, humility and steadfastness, the belief that their work is not a means to something else, but one of the ways to give meaning to their lives, the brilliance that comes to those driven by their personal vision rather than a desire for success, money or fame and generosity are all very evident here. There are no secrets at Tastefully Yours. If you appreciate what they do, they'll tell you everything they know... and usually set a place for you at their table.
The future looks bright for Tastefully Yours and the revived interest in the artisanal, the organic and the local and naturally harvested food encourages Audrea and Norbert to continue to produce fantastic gourmet chutneys, relishes and pickles in the beautiful village of Dunhill in Co. Waterford, Ireland.
Tastefully Yours
8/9 Dunhill Ecopark
Dunhill
Co. Waterford
Ireland
Tel: 0053 51 396590
This email address is being protected from spambots. You need JavaScript enabled to view it.
https://www.facebook.com/Tastefully

Twitter: @Artisanchutney
Copyright © 2012, DPNLIVE – All Rights Reserved
Dunhill | Waterford | Ireland