The Sweetest Thing.
By Tom Byrne.
---
Scratch the surface of Irish industry and you will find one of two things: drink and farming. Dig a little deeper and an abundance of exciting unique produce comes to the fore. Take The Sweetest Thing for example. Ask the Irish public to name different chocolate companies and you will get the same responses: Mars, Galaxy, Hershey's and Cadburys will be high on everyone's list, but mention that 90% of the Cadbury products consumed in Ireland are actually produced in Dublin using pure Kerry milk and most of the same people will look at you in astonishment!
---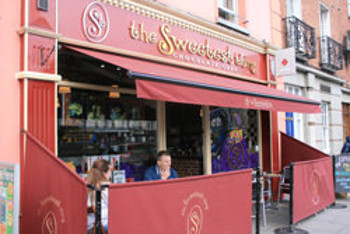 sweetest thing shop
After working in Cadbury Ireland for nearly 35 years, it became clear to me that this gap in knowledge of Irish chocolate stretched further than even I was aware. With retirement fast approaching and three children and a wife at home, I saw an opportunity and took it upon myself to go away and actively fill these gaps. I consider myself an expert in chocolate manufacture on a large scale. It was fascinating and eye opening to learn of all the under-acknowledged, smaller, chocolate companies in Ireland and the different things they all had to offer.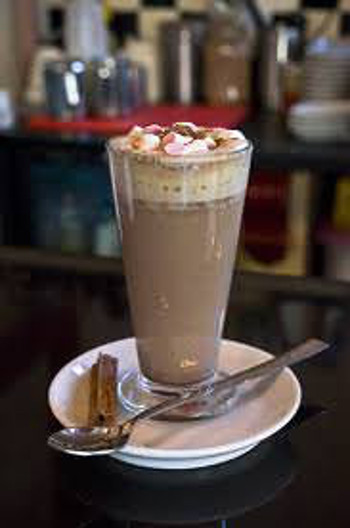 Hot Chocolate drink
From a very young age Irish industry was a part of my life. It seemed almost a given that the men in my family would work for Guinness. For several generations on both sides of my family, the Byrnes and the McGuirks would find themselves inside St James' Gate. It was my father and my grandfathers before him that gave me my affinity for all things local. After all, there is a kind of pride that is associated with family honour and tradition. This is something that was built from the ground, for us, by us.
In early 2010, the Sweetest Thing opened its doors with the original concept of becoming the first Cadbury Chocolate Shop in Ireland; an idea of mine whilst still working for Cadbury that I had "put on the 'back burner". Armed with my new found enthusiasm for all things chocolate and everything Irish, (instead of only Cadbury) our future would be a celebration of Irish chocolatiering.
The intention was to push Irish brands such as Lir, Lily O Brien, Chez Emily and Cadbury Ireland made products as well as creating a niche in artisan chocolate products from different suppliers. We developed a flagship drink, the Sweetest Thing Hot Chocolate, incorporating luxurious melted Belgian chocolate, creamy Cadbury hot chocolate all topped off with delicious fresh cream, marshmallows and Cadbury Flake to finish. From here, we started to create an array of new and exciting hot and cold drinks to accentuate the menu. The shop is filled with the ambiance of the 'old chocolate shop' and is adorned with many original Cadbury images and pictures. The lighting is warm and our patrons feel very snug and at home in the shop whilst enjoying one of our many offerings.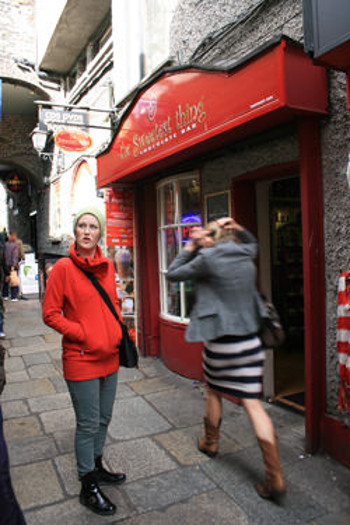 Sweetest Thing in Temple BarWe have just opened a new branch in the Temple Bar arch which is steeped in old Dublin tradition, located opposite the H'apenny Bridge. In the new Bar we offer 125 hot chocolate drinks and some 80 different Milk Shakes. It is the only exclusive hot chocolate bar in Dublin which specializes in so many varieties of exquisite tasty drinks. It was another piece of innovation with a gap in the market identified and utilized. It was observed that there was a spate of milkshake bars that had opened up in or around the city center but nothing along the same ilk for hot chocolates. Thus we decided to open our specialist hot chocolate bar!
We would take different chocolate bars and ingredients and melt them into the hot chocolate, to create a fantastic array of flavours and tastes palatable to everyone.
When one enters the Sweetest Thing, one immediately feels the rich heritage of a chocolate past with a modern touch, blended with the aroma of chocolate, mixed with the excellent Moak Coffee; a beautifully dark Sicilian coffee with a thick, bitter crème, handmade and served with care by our warm and friendly baristas.
Our mission is to make sure that our customer is king at all times; to ensure they have a great experience when they come into our shops. We strive to continue to increase the range of Irish Chocolate offerings and to develop some of our own branded bars and chocolate truffles etc. Our partners, Colm located in the Bachelors Walk shop and James located in the Temple Bar area are on hand most days to serve our customers. Unlike any of our competitors we offer a range and not just one type of chocolate to our customers.
Within the stores we can offer a range of coffees, teas, and a selection of deserts all chocolate based with a rich covering of melted hot chocolate. We also supply a beautiful range of artisan chocolate in a unique 'pick and mix' style; something we're sure our customers will enjoy greatly!
A new and exciting range of products which are being kept under wraps for now are being developed for the firm and will be available in the new year if not before for sale by internet order or through the shops.
We believe we have a unique experience for all customers and are continuing to expand and explore some new choices. Our hand made truffles which are carefully prepared by the finest chocolatiers contain the passion which goes into making them.
Stop by and see us! When it comes to chocolate, we are IRELANDS BEST, A CUT ABOVE THE REST!