Donegal's Liquid Gold – Pure Rapeseed Oil
---
The healthy cooking oil favoured by Celebrity Chefs, as featured on Neven Maguire's "Home Chef" series and Martin Shanahan's "Martin's Still Mad About Fish" series. Full SALSA accreditation has been received.
---
Donegal Rapeseed Co. Ltd. is located in Raphoe, Co. Donegal. We are a small, locally owned and operated company in Donegal. All our rape seed crops are grown locally by specially selected, individual, small farm holdings dispersed throughout the area, on soils that are unique to this area and are not found anywhere else on the island of Ireland.
Due to our Northerly aspect we have longer daylight hours resulting in slower maturing on the rape seed in the pod. Comparing it to wine "you can have the same variety of grapes but because it is grown in two different regions the taste is noticeably different" so in effect our micro climate together with our unique soil confers on Donegal Rapeseed Oil its enhanced health benefits, appealing flavour and superb cooking qualities.
After harvesting the seed is transported the short distance to our processing plant. Here it is dried to the required moisture content and stored until required. The seed is then cleaned, cold pressed and filtered through a simple process which gives you the term "Virgin Rapeseed Oil". The rapeseed oil is then bottled, labelled and packed for distribution. It is an excellent quality rapeseed oil which has gone through the simplest process to give you a product which is as close to nature as you can possibly get.
General Health Information
The levels of fat consumed in a diet are very important to a healthy lifestyle. Omega 3 and 6 are types of fats that are very important in one's health. A correct balance is needed. Omega 3 generally needs to be consumed more. It may reduce the risk of heart attack, strokes and rheumatoid arthritis. Only a small amount is needed but as it is not common in foods it can be difficult to get.
Monounsaturated and polyunsaturated fats help cut the risk of heart disease as they have lower cholesterol levels. Omega 6 fats reduce bad cholesterol thus leading to a happier and healthier heart. Donegal Rapeseed Oil has 11 times more Omega 3 that olive oil. This is recognised as an important requirement for healthier diets.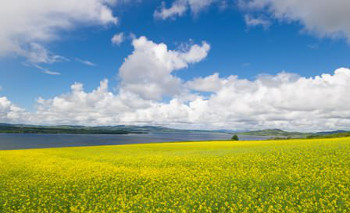 RapeseedCropWhy Use Donegal Rapeseed Oil?
It has the lowest saturated fat content of any other oil on the market. It only has 6% saturated fat content compared to most olive oils at 14% and sunflower oil at 10%.
The Rapeseed Oil contains Omega 3, 6 and 9 as well as Vitamin E which are all known to help lower cholesterol. It has 59% monounsaturated fat and 30% polyunsaturated fat keeping with the 2:1 ratio recommended by nutritionalists.
Donegal Rapeseed Oil has a high burning point of up to 220°C - 230°C which makes it ideal for roasting, stir frying as well as for salad dressings and home baking. Many chefs use it to seal joints of meat so it retains its flavour.
Please see our full list of stockist on our website. For catering sizes please contact us directly.
Donegal-Pure-rapeseed-Oil-PackagingDonegal Rapeseed Oil Co.
Oakfield Demesne,
Raphoe,
Co. Donegal
Tel: 00353 (0) 74 9145386
Fax: 00353 (0) 74 9145382
Email: This email address is being protected from spambots. You need JavaScript enabled to view it." rel="nofollow" target="_blank" mce_' + path + '\'' + prefix + ':' + addy41272 + '\'>'+addy_text41272+'<\/a>'; //-->

Web: www.donegalrapeseedoilco.com

To keep up to date with all the news follow us on:
Facebook – www.facebook.com/DonegalRapessedOil

Twitter – www.twitter.com/DonegalRapeseed