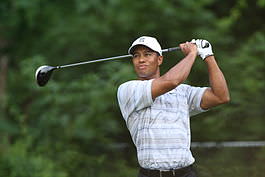 Tiger WoodsAfter nine months Tiger Woods finally played a bogey-free round of golf, albeit "down under"!
As part of his preparations for the Presidents Cup this week, Tiger was taking part in the Australian Open and on Thursday last crowds witnessed a different man out there on the greens. Back was the old accuracy even in blustery conditions. He rarely seemed to be in trouble ending the day on a four-under 68, Woods' lowest score to par in the first round of any tournament this year.
Only once was he in serious trouble off the tee. On the third hole he shot the ball under a tree and through the green which kept him on par.
Woods is taking in a lot over the next four weeks playing in three tournaments - the most he has played since last spring.
As he said," I hit it really good to-day. It was rewarding."