Company honoured with two awards and two nominations.
---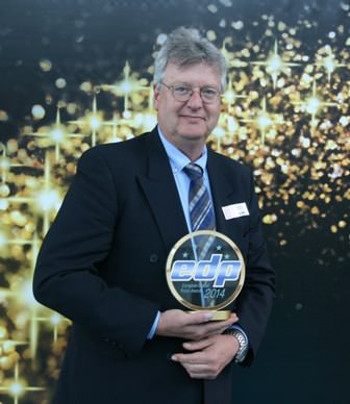 Mimaki EMEA's Mike Horsten with one of the company's two EDP AwardsIt comes as no surprise that Mimaki was recognised once again at FESPA Digital 2014 – this time with two European Digital Press Association (EDP) awards and two nominations. The Mimaki JFX200-2513 wide format printer with LED curing was selected from a packed field of submissions for Best Flatbed/Hybrid Printer up to €200k, and its KEBAB option for 360-degree direct printing onto cylindrical products was named Best Multi-Purpose Object Printer. On hand to accept the awards was Mike Horsten, General Manager Marketing of Mimaki EMEA at a special awards ceremony held during the show.
---
"We are extremely honoured to be recognised once again by the EDP for our efforts to bring innovative products to the digital printing market that open up new revenue opportunities for our customers and for the industry; this year with two of the prestigious awards," said Horsten. "The JFX200-2513 and the KEBAB option for the UJF-3042HG and UJF-6042 desktop flatbed printers both bring unique and affordable capabilities that will drive market growth. We received a first award for the best UV Flatbed printer at FESPA 2013 in London last year for our JFX500-2131, so this is a great achievement and clearly shows our dedication to this part of the industry."
Shown for the first time at Viscom Dusseldorf 2013, the JFX200-2513 is an attractively priced large format flatbed UV inkjet printer which can print up to 25 m2/h on materials up to 2,500 x 1,300mm and up to 50mm thick.
Mimaki maintain that the JFX200-2513's compact footprint, eco-friendly LED curing and price point make it ideal for businesses in the sign and display graphics industry that wish to expand their range of services at an affordable price point. The printer began shipping in April 2014.
Mimaki also highlighted its KEBAB option which it said was easily mounted on the company's UJF-3042HG and UJF-6042 desktop flatbed printers. Using rotary rollers, the KEBAB solution rotates the object, allowing the UJF-3042HG or UJF-6042 to print directly on the entire surface of the cylindrical item. The result is a seamless 360-degree print accomplished with a few simple steps. This finishing capability enables high quality on-demand production of customized three-dimensional print products with a minimum order quantity of one piece, onto everything from cans to candles.
"Expanding the possibilities with our small format UV-LED flatbed range has always been one of the things we said we would do, "added Horsten. "With this KEBAB option, current customers can extend their offerings and develop bright new application ideas."
For further information please contact www.hybridservices.co.uk, exclusive UK & Ireland distributors for Mimaki
Follow us on Twitter - @DigiPrintNews
Like us on Facebook www.facebook.com/DPNLive - (click the 'LIKED' button/top of page as well)
Copyright © 2014, DPNLIVE – All Rights Reserved.