European Digital Press Association votes "Best Multipurpose Object Printer".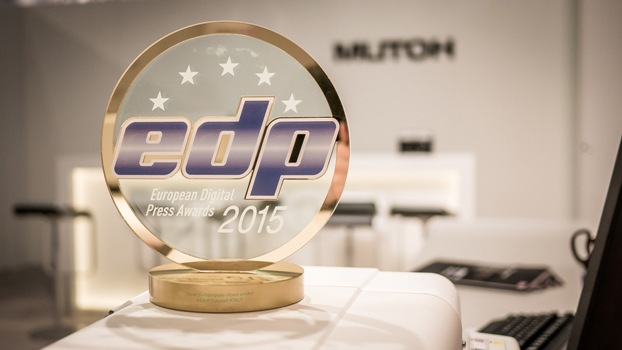 Mutoh-VJ-426UF-EDP-award Wide format printer manufacturer MUTOH has won a prestigious EDP award (European Digital Press Association) for its ValueJet 426UF A3+ flatbed LED UV printer as "Best Multipurpose Object Printer". The award was presented to Mutoh during a special ceremony held at Fespa 2015 in Cologne, Germany last week. The EDP awards are attributed by a panel of independent and highly respected print industry professionals appointed by the European Digital Press Association.
Mutoh Belgium's Managing Director Akio Kotake, who received the award on behalf of Mutoh, commented: "We are delighted and proud to see the world wide recognition for our ValueJet 426UF desktop LED UV printer. Recently the product also won an award as "Best New Product" at the International Sign Expo in the US. We consider this award as recognition for the versatility of our new series of environmentally responsible ValueJet LED UV printers specifically targeted at specialty and industrial short run digital print applications. The prize also underlines Mutoh's innovation power, craftsmanship and our technological leadership in the field of wide-format piezo inkjet printers"
The Mutoh ValueJet VJ-426UF is a compact A3+ flatbed 6-colour LED UV printer with integrated vacuum table. Offering a print table area of 483 mm (19") x 329 mm (13"), the VJ-426UF has been designed to enable direct printing onto objects up to 70 mm (2.75") thick. Mutoh bills it as a multi-purpose printer which will produce ultra-sharp, high quality output and is specifically targeted at short run items or one-off designs of products and their prototypes, personalised gifts, packaging, souvenirs, awards, specialty industrial items as well as labels, decals, signs, etc.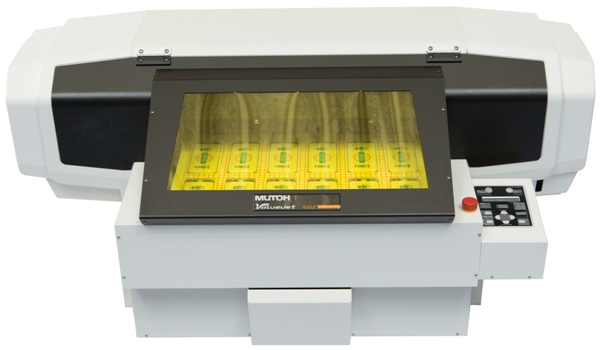 Mutoh-VJ426UF The printer incorporates a latest generation piezo drop-on-demand print head offering print resolutions up to 1440x1440 dpi and can be used to deliver high print quality on a wide variety of solid materials and objects including ABS, Alu-board, PC, PE, PET, PMMA (acrylic), PP, PS, PVC and glass.
Mutoh's LED UV CMYK + white inks & varnish are marketed as completely VOC-free. An energy-efficient latest generation LED UV lamp ensures ultra-sharp, safe & ready to use prints. Its reduced working temperatures also allow printing onto heat sensitive substrates.
The machine comes standard with dedicated Mutoh printer installer & driver software for Windows XP, Vista, 7, 8 and 8.1, as well as a Mutoh proprietary layer management software to facilitate the adjustment of white, varnish and colour separation and start with object printing without in-depth knowledge of colour management and separations.
For more information on the Mutoh ValueJet 426UF A3+ flatbed LED UV printer, visit http://www.mutoh.eu/en-us/products/specialtyindustrial/valuejet426uf.aspx
You can Tweet, Like us on Facebook, Share, Google+, Pinit, print and email from the top of this article.
Copyright © 2015, DPNLIVE – All Rights Reserved.