Mimaki textile print vision secures Viscom Best of Award.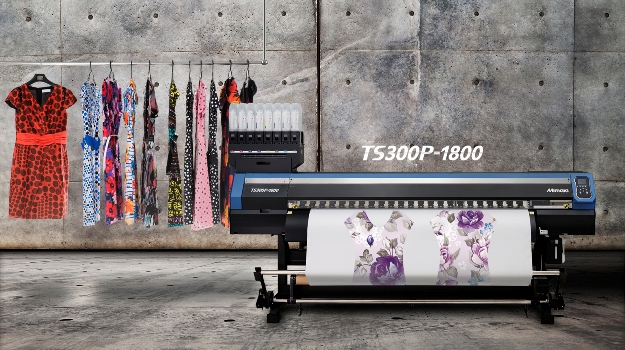 The Mimaki TS300P-1800 dye sublimation printer received Viscom's Best of Award for Textile RefinementMimaki has just announced its TS300P-1800 inkjet printer is this year's winner of the Viscom Best of Award for Textile Refinement.
Designed for low-cost production of high-value digital textile applications, the TS300P-1800 1.8m wide roll-to-roll sublimation inkjet printer is a dedicated transfer paper printer which Mimaki says offers new levels of quality and productivity. Its capabilities have been enhanced with two fluorescent inks, which are available in yellow and pink. These inks were made especially for use in the low-volume, high-quality sublimation paper transfer market and are perfectly suited for fashion, sportswear, swimwear and shoes.
"The digital textile print market is one of the most innovative and fast developing sectors. This Viscom Best of Award serves as a recognition that our solutions are perfectly designed to help operations capitalise on the emerging opportunities," said Mike Horsten, General Manager Marketing EMEA at Mimaki Europe, "Not only does the TS300P-1800 deliver speed, quality and throughput that support the demands of operations in this market, it also facilitates the fast-growing role of digital textile printing in the retail market. Fluorescent colours are the next step in the journey and our neon inks enable designers and garment manufacturers to extend their production and volume flexibility."
Mimaki added that the TS300P-1800 also brings a number of new capabilities to textile printing, including the ability to print on very lightweight transfer paper at speeds of up to 115m2/h maximum when 4 colour printing (62sq m/h when printing with 6 colours for high quality print). The printer is being marketed as achieving accurate dot placement even with high head gap printing (adjustable from 2 to 7 mm) and features Mimaki's automatic Nozzle Recovery System for consistent quality printing.
The newly developed Sb410 sublimation transfer ink is available in bulk ink packs and the printer features the company's Uninterrupted Ink Supply System for unattended continuous printing. An external dryer delivers up to 30 per cent faster drying of the printed paper and Mimaki's new TxLink3 RIP has been included to ensure high quality colour management including colour replacement, accurate profile creation and fast file processing.
Exclusively distributed in the UK and Ireland by Hybrid Services Ltd, the company's National Sales Manager – Textile & Apparel, Stephen Woodall commented, "The TS300P-1800 has been a hit since its launch at FESPA 2015 and was featured in live demonstrations at ITMA in Milan from 12th November."
"For those who did not visit ITMA, Hybrid has a demonstration machine in its showroom and we welcome companies looking to audition this exciting dye sub printer," he concluded.
Following the exhibition in Italy, the TS300P will then visit Istanbul, Turkey to wow visitors at FESPA Eurasia, taking place from December 10 - 13, 2015. Full details of Mimaki's product range can be found by visiting www.hybridservices.co.uk.
A dedicated blog on this topic, can be found at: www.mimakieurope.com/blogs/printing-for-sports
You can Tweet, Like us on Facebook, Share, Google+, Pinit, print and email from the top of this article.