Gone but not forgotten.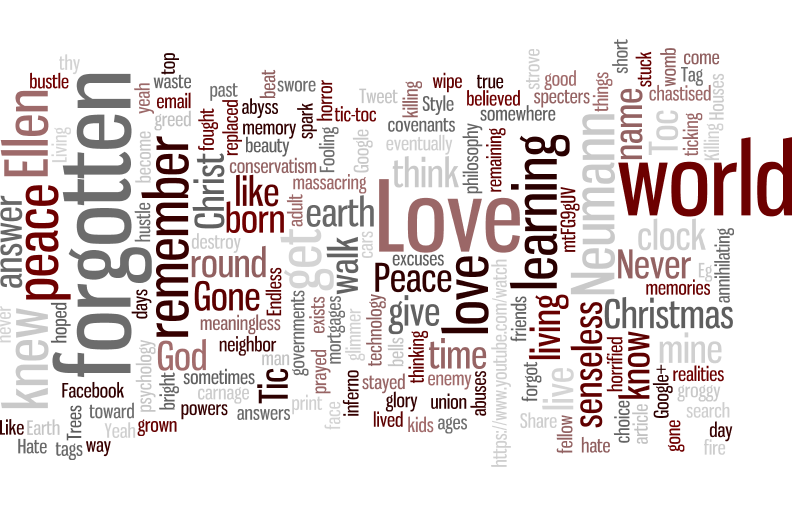 Peace on Earth AGAIN?? 2015 Style I spent the day today thinking about our world: The Hate, the waste, the senseless killing in the name of God: technology, psychology philosophy: Theirs, mine, ours, theirs, round and round. Never learning from the carnage of the ages. Never learning, never learning.
In 1966, I knew the answers, I knew it all. We knew it all......... We have forgotten, grown into what we swore we would not become; what we denied, chastised; the things that horrified us. Houses, cars, kids, mortgages, tic-toc, beat the clock. The peace and love we dreamed of, hoped for, prayed on, strove for and sometimes fought for: we forgot! Living, greed, excuses, abuses. Yeah, gone, forgotten! A glimmer of what we believed to be the answer; a spark remaining somewhere in the abyss of the groggy foggy past. Gone but not forgotten, somehow a thread of a memory that exists only in our memories of our glory days.
I like to think I have stayed true to myself. I like to think that, yeah. Fooling myself ?? I don't know. I do not know........... The beauty of our search for world peace was short lived, replaced by the realities of living in the adult world: living in the world of governments, covenants and specters.
We are stuck; consummating our union with skepticism, liberalism, conservatism and all other forms of righteousness as prescribed by the powers that be. Killing, massacring, annihilating. They have come to get us, in the name of their God. We will wipe them off the face of the earth eventually. No choice we will say, no other way. Endless, senseless, meaningless!
Christmas. It's a bright, shiny, hustle bustle time. Trees, bells, give and get, get and give. Christ was born in the land where the world is on fire; an inferno of hate and horror. Christ was born in the womb of those who would destroy us, the breast of those who have also forgotten how to love their fellow man.
Theirs, mine, yours, ours: Love thy neighbor. Love your enemy, Love, Love, Love is the only answer. Peace on earth, good will toward men. It's time to remember and walk the walk. The clock is ticking my friends, remember, remember and live the love, live the peace. Tic Toc, Tic Toc.
By Ellen Neumann
You can Tweet, Like us on Facebook, Share, Google+, Pinit, print and email from the top of this article.