OMG

–

the BOYS

are L

ookin

' G

ood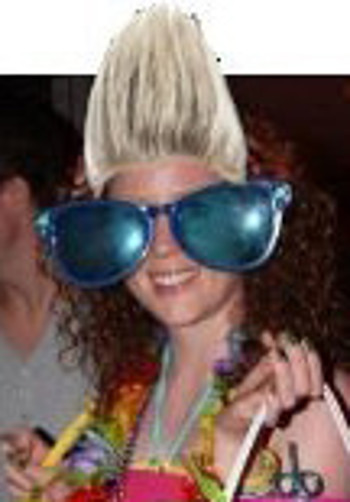 Ciara TallentBy Ciara Tallent
John and Edward Grimes first appeared on our screens in 2009 on the talent show The X-Factor singing the Backstreet Boys song As Long As You Love Me. Described in the auditions as "two of the most irritating people" by Simon Cowell, they were voted through to bootcamp by the other judges. Mentored by Louis Walsh the duo became better known as Jedward. The pair had public opinion divided from the first live show when they performed the Robbie Williams hit Rock DJ. Viewers tuned in every week to watch their performances including Ghostbusters, Oops!...I Did it Again and Under Pressure/Ice Ice Baby.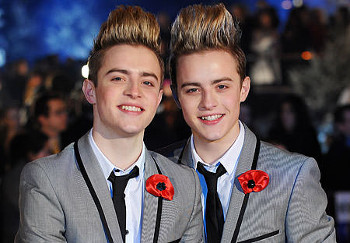 jedward
They found themselves in the bottom two for the first time in week 5 of the show but controversially were saved from eviction. Cowell made the final decision to save Jedward saying he would "prefer to see the boys again" and fellow contestant Lucie Jones was sent home. They survived two more weeks before being voted out of the competition.
The identical twins were born at the Rotunda Hospital in Dublin on October 16th, 1991. John, who is older by 10 minutes, and Edward lived in Rathangan, Co Kildare, with their older brother Kevin and parents John and Susannah. They enjoyed singing, swimming and running from a young age and appeared in a stage production of Oliver. Aged 10 they moved to Lucan, Jedward stood out in school and were the victims of bullying. The twins however were and still are inseparable and helped each other through this difficult time. They pursued their two passions: performing in a school talent show and running in national competitions after joining Dundrum South Dublin Athletic Club. The pair never gave up their dream of becoming famous, and jumped onto our screens in matching suits and what are now their signature quiffs.
Getting voted off the X-Factor was only the beginning for the twins. They had many TV appearances after their departure from the show including The Late Late Toy Show in November 2009 and the Graham Norton Show on New Year's Eve 2009. With Louis Walsh as their manager, Jedward released their first single Under Pressure (Ice Ice Baby) featuring Vanilla Ice on January 31st, 2010. The single reached number 1 in Ireland and number 2 in the UK. This was followed by the X-Factor Live Tour 2010 from February to April 2010 which saw some of the other finalists upset as John and Edward were given more performance time then some of the others.
Planet Jedward, their debut album was released on July 16th, 2010 and reached number 1 in the Irish charts. Their cover of the Blink 182 song, All the Small Things was also released in July 2010 and peaked at number 6 in the Irish charts. The twins ended 2010 on a high with their roles as Cinderella's godbrothers in the sold-out pantomime in the Olympia Theatre, Dublin.
On February 11th, 2011 Jedward were voted by the public to represent Ireland in Eurovision Song Contest 2011. They sang their song Lipstick on The Late Late selection show and were chosen to sing in Düsseldorf. Appearing in the second semi-final on May 12th, 2011 they were voted through to the final where their performance saw them secure eighth place, Ireland's best result in 11 years. Jedward released Lipstick as the first single from their new album, followed up by Bad Behaviour; both singles reached number 1 in Ireland. Their second album, Victory was released on August 5th, 2011 and reached number 1 in the Irish charts. Due to their success at the Eurovision Victory was released across Europe and Asia in September 2011.
Wow Oh Wow was the third single from the album and was released in November 2011. In August-September 2011 Jedward finished third in Celebrity Big Brother. December 2011 saw their return to the Olympia Theatre with the pantomime Jedward and the Beanstalk.
Since their rise to fame Jedward have starred in several TV advertisements, including ads for Abrakebabra, Shake N Vac and Three Prepay. They have supported Westlife in Croke Park and performed at the Childline Concert 2010. Their first solo tour, Planet Jedward Tour was so popular they had to add more dates. They had a one-hour documentary on RTÉ called OMG It's Jedward in 2010 and a second show OMG – Jedward's Dream Factory in 2011. They were given their own fly-on-the-wall series, Jedward: Let Loose, which was a three-part show following their journey since their departure from X-Factor which aired on ITV2 in August 2010.
In 2011 Jedward had two tours across Ireland, their Bad Behaviour Tour in April and Carnival Tour in August and several performances abroad. Jedward are also regular guests on Celebrity Juice with Keith Lemon.
So far in 2012 Jedward have had a show on CBBC, Jedward's Big Adventure and have signed a deal to star in a Channel 5 reality TV show Jedward's Weird Wild World. They have been voted to represent Ireland in the Eurovision Song Contest 2012 which will take place in May in Azerbaijan with their song Waterline.
They will compete in the first semi-final which takes place on Tuesday, May 22nd. Waterline was released as a single in February 2012 and reached number 5 in the Irish charts. They have also recorded a song for UEFA Euro.
2012 called Put Your Green Cape On. The song was written by 2fm presenter Colm Hayes and will be released in May with all proceeds going to the ISPCA. Jedward will be performing at various events throughout the year including music week in Germany in July. They will also be returning to Christmas pantomime this year in Jedward and the Magic Lamp and making a second series of OMG – Jedward's Dream Factory for RTÉ.
By Ciara Tallent
http://youtu.be/7MgDpG-8nhY
Copyright © 2012, DPNLIVE – All Rights Reserved