Five

Irish

Guys

take the World by Storm
By Bob Tallent
4th April 2012
Dublin
---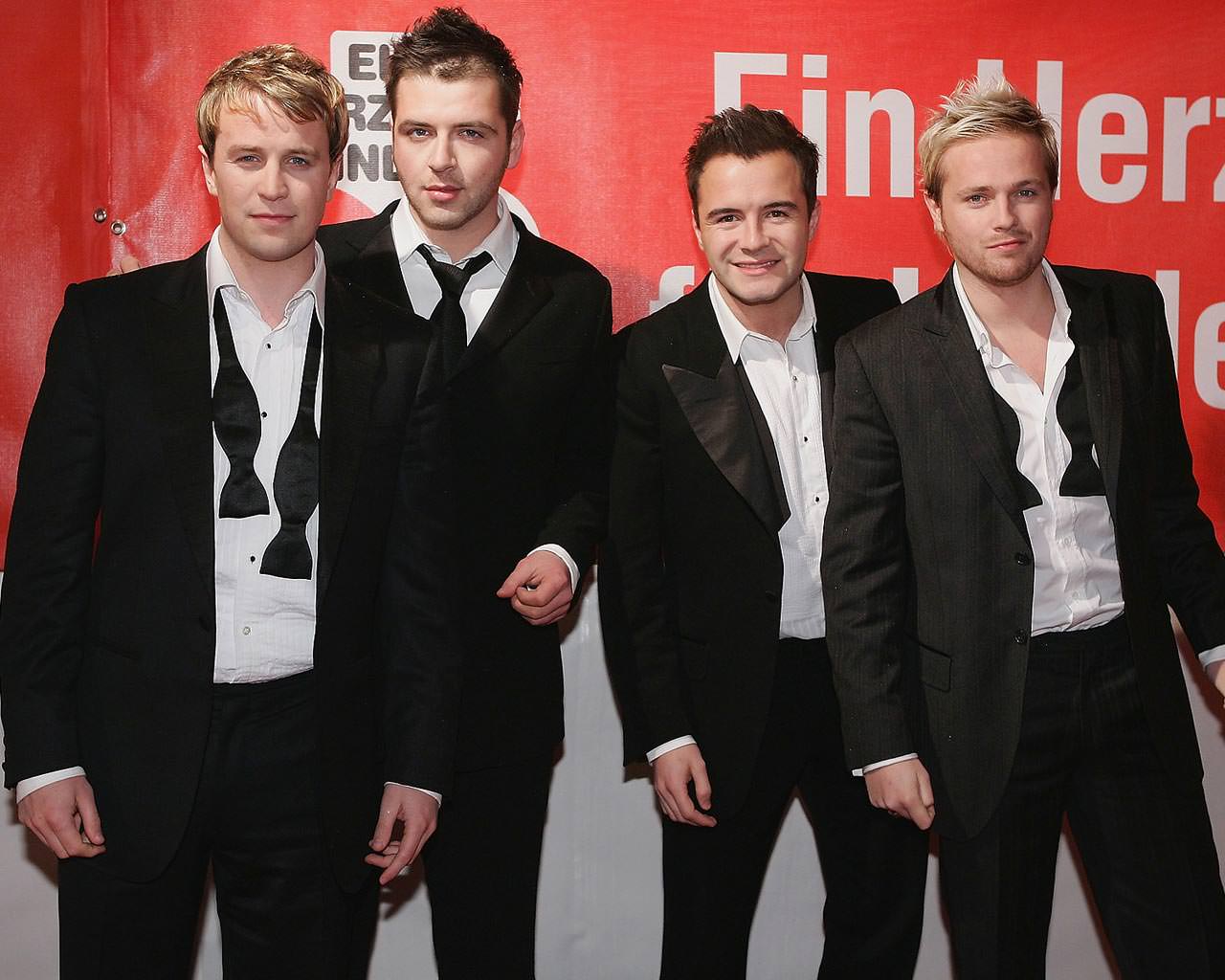 WestlifeThis Irish "boyband" was formed in 1998 by Louis Walsh. Originally they were five, now four. They are enormously popular in Ireland and the UK yet never really cracked America. Their number one hits have tied with Cliff Richard. They are credited as being the second largest selling artists and largest selling band of the decade. Although they are on a high point in their career, they are due to disband this year, 2012, after a farewell tour.
I'm talking about WESTLIFE!
Westlife consists of Kian Egan, Mark Feehily, Shane Filan, Nicky Byrne, and Brian McFadden although Brian left the band in 2004. Westlife evolved from a six-piece band originally called Six as One and later changed to IOYOU. It was formed by Kian Egan, Mark Feehily and Shane Filan. While performing in a stage version of the musical Grease in Ireland, the guys were spotted by pop manager Louis Walsh. Shane's mother contacted Louis and invited him to check them out. Louis was managing Boyzone at the time and was on the lookout for the next big band. Essentially, Louis 'manufactured' the band. He groomed them and turned them into a hit-making machine. Initially they were called Westside but that was changed to Westlife to avoid confusion and possible legal problems with a US group.
Louis brought the band to Simon Cowell for a record deal with his label BMG. Simon didn't like the group and called them ugly so Louis made some personnel changes. After auditions he recruited Nicky Byrne and Brian McFadden. Brian changed the spelling of his name to Bryan to make it easier to sign autographs.
Their first single to be released was Swear It Again which went in straight to number one in the U.K.,Ireland and numerous other countries. They followed it with If I Let You Go and Flying without Wings which also went to number one in many countries. Then they produced an album called Westlife in 1999 which went to number one. They have released nine singles altogether from their previous two albums, Westlife and Coast To Coast. Their next single was called Queen Of My Heart and it is on their album World Of Our Own. They have been entered in the Guinness Book of Records for having their first seven singles go straight to number one in the U.K. and for having five number one singles in Ireland.
Westlife never managed to make a dent in America's pop scene where national acts like the Backstreet Boys, NSYNC, and Britney Spears reigned supreme. They released Swear It Again with a brand new tacky video. It didn't work so they focused on the rest of the world. Their trip to the States got them a duet with Mariah Carey. They recorded a cover of Phil Collins' Against All Odd, which reached number one. This song is part of Westlife's second album, Coast To Coast, which also reached. They continued their massive record breaking suite of albums and singles with the most consecutive number of number ones. Their Christmas single What Makes A Man didn't reach the number one spot but got into the charts at no.2, right behind Bob The Builder with his Can we Fix It?
In February 2001 Westlife was the face of Comic Relief in the UK and released a cover version of Billy Joel's Uptown Girl for that. To this day it is their best selling single ever. The single raised approximately a million pounds sterling.
In February 2001 they released their next hit: World of Our Own. The follow-up, Bop Bop Baby only hit no.5. It was a failure in the eyes of Shane and Brian who wrote the song together. At the end of the year they released Unbreakable which is also the title of their first Greatest Hits album. The single Queen Of My Heart from the same album was another no.1 single.
During their Christmas holidays (2001) both Shane and Nicky proposed to their girlfriends. In February Brian's second child is born and Shane is chosen to be Lily Sue's godfather.
Nicky married Georgina Aherne, daughter of Bertie Aherne – Taoiseach of Ireland and Kian announced his relationship with ex-Hollyoaks star Jodi Albert.
Their next single was Hey Whatever, a remake of Relish's Rainbow Zephyr. The song hit no.4 in the UK charts. That was followed by their version of Barry Manilow´s Mandy, which got them their 3rd Record of the Year Award (after Flying Without Wings & My Love). With those singles the new album, Turnaround appeared.
Flying without wings at Croke Park
In December 2003 Shane Filan married Gillian, Kian's first cousin. They got married in Ballintuber Abbey, an old abbey in county Mayo. This was another successful year for Westlife both personal and business.
2004: Another number one hit with Obvious and Bryan McFadden decided to leave the band because he wanted to spend more time with his wife Kerry and their kids Molly and Lily Sue. They continued with their Turnaround Tour and were determined to make it their best yet. That tour broke a few more records. They decided to change their style with a new Ratpack album, Allow Us To Be Frank. They went to LA to shoot a few videos for Sinatra songs like Ain't That a Kick In The Head, Fly Me To The Moon, Smile and Mack The Knife. They were featured in their own tv show, called She's The One. They used that to find a female singer to sing on the album. Joanne Hindley was the winner and sang The Way You Look Tonight on TV.
2005: Shane and his wife Gillian had their first child in July. Mark announced he's gay and that he's in a relationship with Kevin McDaid, former V member. Their new single You Raise Me Up, was a massive hit all over the world. This Josh Groban cover gets them back on the map in Australia and they get to number one hit over there. Face to Face, on which You Raise Me Up is featured, is also a major success. At Christmas, they release a song with Diana Ross. They record When You Tell Me That You Love Me.
2006 to 2012: They played their biggest gig ever in Croke Park, Dublin to a massive sold out crowd of over 83,000 people in 2008 and 2010. In 2006, they appeared in two TV shows "The Westlife Show", broadcasted by ITV on December 16th and on December 21st they were in Dublin to record an hour long Westlife special for The Late Late Show – the world's longest running chat show.
On Late Late Show 2011
Move in to 3.00 Mins
They were declared Ireland's ninth richest celebrities aged under 30. As a band they were worth €36 million.
They took a one year break in 2009
2010: They released their eleventh studio album, Gravity. Safe, the first single released from the album, reached number ten in the UK charts.
Wayne Hector, who has worked with Westlife, said: "We've always thought the reason Westlife songs have been so successful is because it's about situations that everybody goes through."
Over the years Westlife had recorded and with some of the world's most renowned music acts such as Mariah Carey, Lulu, Joanne Hindley, Diana Ross, Donna Summer, Delta Goodrem, The Vards, Indonesian childstar Sherina and Amr Diab, Cristian Castro and Korean singer BoA.
with Diana Ross When you tell me that you love me
Westlife has performed with some of the biggest names in the music industry including Sinead O'Connor, Donny Osmond, Mariah Carey, Secret Garden, Lionel Richie, Ronan Keating, Dolores O'Riordan of The Cranberries, Roy Orbison, Delta Goodrem, Raymond Quinn, Leehom Wang, Mary Black, Kevin Spacey, Do, various artists "All-Stars" and even their fathers.
Some of the famous music video directors who have had an opportunity to work with Westlife are as follows: Cameron Casey, Wayne Isham, Nigel Dick, Stuart Gosling, Phil Griffin, Antti Jokinen, David Mould, Alex Hemming, Max Giwa and Dania Pasquini.
People who supported them on tours include Shayne Ward, No Way Out, K-otic, Natural, Six, Totally Spies, D-Side and Lauren Waterworth, Bellefire, The Conway Sisters, V, Twen2y4se7en, Zoo, Kwest, Pop, No Way Out, Sub Bass 5, Traphic, Mark Dakriet, 4th Ba5e, Reel, Peter Andre, Girls Aloud, Eton Road, Gareth Gates, Roxanne, Alsou, The MacDonald Brothers, Billiam, Cushh, The Unconventional ls, Dyyce, Lady Nada, Code 5, Annabel Fay and Hope.
with Mariah Carey Against all odds
2011: they announced they had left Simon Cowell after 13 years due to his decision not to release a second single from the their most recent album. Nicky Byrne said that Simon had been great in 1998 but the development of 'American Idol' and 'The X-Factor' had left the band feeling "unloved." On 19 October 2011, they announced they would be releasing their second Greatest Hits album on 21 November 2011 and that their nine date tour of 2012 would be a Farewell Tour saying "The decision is entirely amicable and after spending all of our adult life together so far, we want to have a well-earned break and look at new ventures."
Their two final gigs will be in Croke Park Dublin on 22nd and 23rd June 2012. The 22nd is sold out so far. They will be huge gigs and are supported by The Wanted.
Thanks to Ciara who got me the videos for this article.
Just hit the BLUE NEXT button below to go to page 2 & see 16 more videos and a list of songs and albums. Enjoy.
---
| | |
| --- | --- |
| Westlife, supporting Boyzone in concert | Swear It Again, first number 1 on Top of the Pops |
| I Have a Dream, first Christmas number 1 (1999) | Unbreakable (2002) |
| World of Our Own (2002) | Obvious - song to mark the departure of Bryan McFadden (2004) |
| Hey Whatever (2003) | Irish Son, Bryan McFadden. First solo single |
| Fly Me to the Moon (2004). On Paul O Grady Show with interview | You Raise Me Up (2005) |
| The Rose (2006) | Home (2007) |
| Lighthouse (2011). Last single by Westlife | I'm Already There (2008). Westlife sing about their Children |
| Westlife and JLS, X factor | Boyzone and Westlife sing together, a tribute to Stephen Gately |
Albums





Studio albums






Title
Album details








Westlife
Released: 1 November 1999


Label: BMG


Formats: CD, cassette
Coast to Coast
Released: 6 November 2000


Label: BMG


Formats: CD, cassette
World of our Own
Released: 12 November 2001


Label: BMG


Formats: CD, cassette
Turnaround
Released: 24 November 2003


Label: BMG


Formats: CD, cassette
Allow Us to Be Frank
Released: 6 November 2004


Label: Sony BMG


Formats: CD, digital download
Face to Face
Released: 31 October 2005


Label: Sony BMG


Formats: CD, digital download
The Love Album
Released: 20 November 2006


Label: Sony BMG


Formats: CD, digital download
Back Home
Released: 5 November 2007


Label: Sony BMG


Formats: CD, digital download
Where We Are
Released: 30 November 2009


Label: Sony


Formats: CD, digital download
Gravity
Released: 22 November 2010


Label: Sony


Formats: CD, digital download




Compilation albums


Title
Album details
Unbreakable: The Greatest Hits Volume 1
Released: 11 November 2002


Label: Sony BMG


Formats: CD, cassette
Greatest Hits
Release: 18 November 2011


Label: Sony, RCA


Formats: CD, digital download




Box sets


Title
Album details
Coast to Coast /
Released: 28 September 2007
World of our Own
Label: Sony BMG


Formats: CD, digital download
Westlife / Turnaround
Released: 5 October 2009


Label: Sony BMG


Formats: CD, digital download

Singles



List of singles, with selected chart positions and certifications, showing year released and album name
Single
Year
"Swear It Again"
1999
"If I Let You Go"


"Flying Without Wings"


"I Have a Dream" / "Seasons in the Sun"


"Fool Again"
2000
"My Love"


"What Makes a Man"


"I Lay My Love on You"
2001
"Uptown Girl"


"When You're Looking Like That"


"Queen of my Heart"


"World of Our Own"
2002
"Bop Bop Baby"


"Unbreakable"


"Tonight"
2003
"Miss You Nights"


"Hey Whatever"


"Mandy"


"Obvious"
2004
"Ain't That a Kick in the Head?"


"Smile"


"You Raise Me Up"
2005




"When You Tell Me That You Love Me"


(featuring Diana Ross)


"Amazing"
2006
"The Rose"


"Home"
2007
"Us Against the World"
2008
"Something Right"


"What About Now"
2009
"Safe"
2010
"Lighthouse"
2011
Number one hits


Top 10 hits






As a featured artist


Single
Year
"Against All Odds"
2000
(Mariah Carey featuring Westlife)


"Everybody Hurts"
2010
(as part of Helping Haiti)


Number one hits


Top 10 hits






Other charted songs


Song
Year
"All Out of Love"
2007
(featuring Delta Goodrem)


"Hard To Say I'm Sorry"


"I'm Already There"


"—" denotes song that did not chart






Video albums






Concert tours






Title
Video details
Where Dreams Come True
Released: 19 November 2001


Label: Sony BMG
The Greatest Hits Tour
Released: 6 October 2003


Label: Sony BMG
The Turnaround Tour
Released: 15 November 2004


Label: BMG
Live at Wembley
Released: 27 November 2006


Label: Sony BMG
Live at Croke Park
Released: 24 November 2008


Label: Sony BMG
The No.1's Tour
Released: 16 February 2009


Label: Sony BMG
Where We Are Tour: Live from The O2
Released: 29 November 2010


Label: Sony BMG




Music video compilations


Title
Video details
Uptown Girl
Released: 12 March 2001


Label: BMG




Coast To Coast:
Released: 9 April 2001
Up Close And Personal
Label: BMG




World Of Our Own
Released: 25 February 2002


Label: BMG




The Greatest Hits
Released: 18 November 2002


Label: Sony BMG




Back Home
Released: 3 November 2007


Label: Sony BMG




Greatest Hits Deluxe Edition Bonus DVD
Released: 21 November 2011


Label: RCA, Sony Music




Documentaries


Title
Video details
The Westlife Story
Released: 26 June 2000


Label: Sony BMG




Westlife - The Complete Story
Released: 18 November 2002


Label: BMG
Copyright © 2012, DPNLIVE – All Rights Reserved