Page 1 of 2
The most diverse jumble of musical chameleons ever to share a stage
Bob Tallent
29th March 2012
---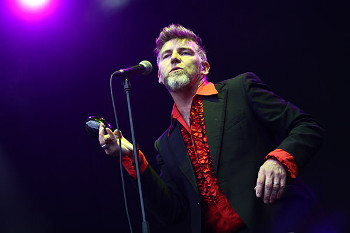 Jerry FishThis week, I'm going to introduce you to an Irish artist, relatively unknown on the international scene, but well known in Ireland.  His previous band supported U2 in 1993 on their Zoo TV Tour.  Their music is described as 'lounge lizard, schmooze and mariachi passion'.  It is a spectacular concoction of soul, jazz, lounge, swamp blues and good old-fashioned rock 'n' roll.  It's where Leonard Cohen sings Dean Martin.  As the band says "What do you get when you cross Tom Waits with a Circus Showband, when you mix Jacques Brel with Mink DeVille, when you lock Dr John, Dean Martin and The Fun Lovin' Criminals in the same room?"
The answer is Jerry Fish and the Mudbug Club, the most diverse jumble of musical chameleons ever to share a stage.  Don't be tempted to use the clichés "are you codding me, something fishy going on here, fish out of water, plenty of fish in the sea".
Jerry Fish was born Gerard Whelan and is as Irish as they come even though he was born in London.  He was brought up in Darndale, a working class area of North Dublin.  Incidentally, this is very close to the area the four lads from U2 were from.  Around 1987, he auditioned as a singer for a band that included Enda Wyatt. He got the job, but the band broke up soon afterwards.  After the breakup, Jerry and Enda performed alone. Jerry brought David Frew and Drummer Martin Murphy into the band and it became known as An Emotional Fish.
I met Jerry and the lads around 1988/9 in Wexford on a sunny Sunday afternoon in a little pub in the middle of nowhere called Pegs Bar. They were chilling out and managed to jam on their guitars.
In 1989 they signed with U2's label, Mother Records and released two CDs - Grey Matter and Celebrate. Celebrate went into the Irish top 10 and hit number 46 on the UK charts and number 5 on the US Modern Rock Tracks chart.  They moved to Atlantic Records who re-released their albums, but they didn't really do too well.  They then recorded Junk Puppets (1993) and Sloper (1994), but they didn't do too well in UK and US, either.
Around 1996, the band broke up. They ended up in court with their record label, an experience which Jerry can only exasperatingly refer to as 'heartbreaking'.
Jerry then took a break and began to get to know himself.  He did a bit of traveling, fell in love, restored motorbikes and had babies (not necessarily in that order).  He went back to music in 2002.  In an interview for Hotpress, Jerry said "I've always thought I'm just one jammy, lucky f***er.  It's because I'm forever counting my blessings. I love the fact that I've shoes on my feet."
In 2002, Jerry formed a new band with a new style 'lounge lizard schmooze, mariachi passion and punk Latino'.  The band consisted of Jerry Fish, Conor Brady (guitar), Simon Farrell (bass), John Wilde (drums), Stefano Stallion Muscovi (trumpet, harmonica, background vocals), Mischa Langemejer (saxophone), and Pat Corless (trombone, tuba, background vocals).
They released the full-length album "Be Yourself" (2002) and the Top 20 hit single "True Friends."  True Friends was used in an advertisement by Vodafone and stayed in the Irish charts for over three months.  It included contributions from Damien Rice, Anuna, Maria Doyle Kennedy, Bronagh Gallagher, Josie Doherty, and an international brass section comprised of Mischa Langemejer, Felim Gormley and Stefano Muscovi,  Follow-up singles included "Upside Down," "Anyway the Wind Blows," and "Be Yourself."  "Be Yourself" also included contributions from Damien Rice.  In 2004 they recorded a live album at the Palais de Glase Spiegeltent, Live at the Spiegeltent – floating on the River Liffey.  It was part of the Dublin Fringe Festival.
In 2009, they released their second album "The Beautiful Untrue". It was a Top Ten hit on the Irish albums chart. The album includes the single "Back to Before," and duets with indie singer Carol Keogh (The Low Babies and The Plague Monkeys) and amazing rockabilly singer Imelda May from the Liberties in Dublin.  The "Beautiful Untrue" hit number 7 on the Irish charts.
Also in 2009, Jerry recorded an album, which has not been released, with the actors Michael Madsen, David Carradine and Harry Dean Stanton, and the singer Iggy Pop, with the contributors reciting poems written by Madsen. Jerry and Michael signed a deal to make three records together to be released on Jerry's new label "The Mudbug Club".
In 2003, Jerry was given an Irish Music Award at the 2003 Meteor Awards for best Roots/Country Artist (much to the bemusement of Jerry) and went on to present the second series of the music television programme Other Voices produced by Phillip King that same year.  I was at the Meteor Awards that year.
They toured in Ireland and UK during 2002, 2003 and 2004, including sell-out shows at the Olympia.  They played in many festivals like Glastonbury, Isle of Wight, V Festival, T in the Park, Oxegen, The Electric Picnic and Witness.
In 2010, the song "Back to Before" from the album "The Beautiful Untrue" was featured in  television and radio advertisements in Spain and Portugal for the department store chain El Corte Inglés.
In 2011, The Beautiful Untrue was released in Spain by Warner Music.
Over the years, Jerry has sung with people such as Sinead O'Connor, Cerys Matthews, Something Happens, Engine Alley, Lir, Republic of Loose, Iggy Pop, Damien Rice, Imelda May, Kate Moss, Camille O'Sullivan, Aslan, Sharon Shannon and Carol Keogh. As Jerry says of his band "I have some of the best musicians in the world working with me, Conor Brady and Simon Farrell and John Wilde on drums. I went to see the Rolling Stones, and I've a better brass section. And we all love what we do in the Mudbug Club".
Jerry (he has An Emotional Fish line-up with him this time) is playing the Olympia this Friday 30th March in aid of Barretstown.  He has Sinead O'Connor, Something Happens, The 4 of Us, Republic of Loose, Engine Alley, Lir and Ham Sandwich with him.  I think it's just about sold out, so if you want tickets, get them now.
Rock on Jerry!
Lets start the videos this week with TRUE FRIENDS
Now hit the blue NEXT button below & go to the next page for 18 more videos and a list of his songs and albums