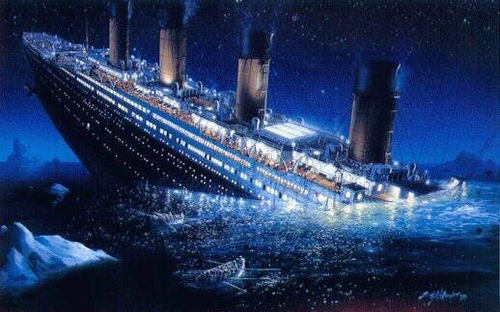 On the 100th anniversary of the sinking of the Titanic in which 1,509 people died and only 705 were rescued the question is still asked by some:
"Was it a conspiracy?"
As with many calamities there are a number of conspiracy theories surrounding the sinking of the Titanic.
The most popular one is that IT WAS NOT THE TITANIC...
The Titanic's sister ship, the Olympic, was almost identical and was involved in a collision with a Royal Navy cruiser. This left its keel cracked beyond repair and it was uninsured.
The Olympic was repainted and fitted to look like the Titanic and was sent on its "maiden" voyage to be sunk deliberately.
Captain Smith was to sail through icebergs and open the ships seacocks. The Californian and another mystery ship were waiting to pick up passengers. However, the second mystery ship hit an iceberg killing its power and lights causing the Titanic/Olympic to collide with it. Captain Smith thought he had collided with an uninvolved vessel and veered off from the scene of the "accident". This took Titanic/Olympic off course; too far for the Californian to save the passengers.
THE VATICAN DID IT
Via the Jesuits
The Jesuits wanted the US Federal Reserve Bank to be established but three opponents of this needed to be eliminated. These were Guggenheim, Strauss and Astor. They persuaded JP Morgan to finance the building of the Titanic and to invite the three to sail on the voyage.
A Father Brown was sent along to persuade Captain Smith to sink the ship.
Why? They needed the bank to fund the 1st world war.
THE MUMMY'S CURSE
An Egyptian mummy of a priestess uncovered at Thebes was smuggled aboard. This mummy cursed all those who had dealings with it. It was smuggled on board by William Stead. This confirmed the curse of the mummy as Stead had told the passengers of its presence and they related the story later.
THE FREEMASONS
Two factions of the freemasons were at loggerheads "The Sons of Belial" and its rival, "The Love of One". Rockefeller and JP Morgan were members of The Sons of Belial and wanted to eliminate members of its rival, several of whom were on board. It is alleged the Belial caused WW2 and the Wall Street crash as well as ordering Captain Smith to sink the Titanic. It is alleged that JP Morgan cancelled his trip on the Titanic at the last minute.
There are a number of facts that make inventing conspiracy theories a bit easier.
The Californians radio was turned off.
There was reportedly a mystery ship that passed and did not stop to help.
The Titanic fired white flares instead of red.
The look outs had no binoculars.
What do you think?
Copyright © 2012, DPNLIVE – All Rights Reserved