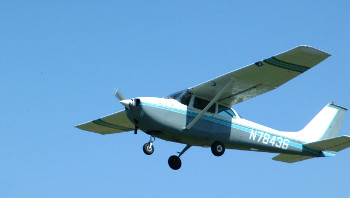 cessna1721An article on news-press.com caught my eye today. It says that a North Carolina pilot, David Zehntner, of Charlotte County, was flying home in his plane and decided to fly over his own house. In the process he saw a thief stealing his trailer from his driveway. The fact that he saw a silver truck in his driveway that shouldn't be there caught his attention. So he decided to fly lower over his house on Loblolly Bay Road and saw a guy hitching up his trailer to a truck.
He rang the local police from his plane and decided to follow the truck in his plane helping the police to track him.
Police stopped the truck and arrested Gary Haines. When they looked inside the truck they found a fully loaded rifle and bullets on the ground.
Gary was charged with grand theft and released later on a $2500 bond.
So next time you're flying home in your private plane, take a detour over your house to check it out!
By Bob Tallent
Follow us on Twitter - @DigiPrintNews
Like us on Facebook at www.facebook.com/dpnlive

Copyright © 2013, DPNLIVE – All Rights Reserved