50 countries to be represented at the

8th Summit of the


World Alliance of Cities Against Poverty.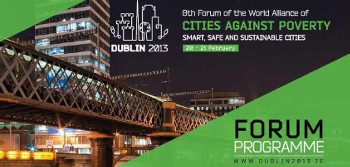 World Alliance of Cities Against Poverty

A major UN Forum will start in Dublin on the 20th February at which mayors and other senior municipals authorities from more than 100 cities will convene to discuss and debate solutions to the growing urban poverty challenges made more severe by the current economic crisis. The cities include those from across Europe, but also from as far away as Ankara, Abeokuta and Addis Ababa to Beijing, Banjul, Cairo and Khartoum.
Opening statements at the conference will be made by:
Michael D Higgins, President of Ireland
Michelle Bachelet, Executive Director, UN Women, Gender Equality and Women's Empowerment
Mary Robinson, Mary Robinson Foundation - Climate Justice
Tom Arnold, CEO, Concern Worldwide
Aisa Kirabo Kacyira, Deputy Executive Director, UN-HABITAT
The World Alliance of Cities Against Poverty (WACAP) is a network of more than 900 cities which work together to tackle development challenges collectively. It was started by the United Nations Development Programme in 1996 following the Second United Nations Conference on Human Settlements. The Dublin Forum will be the eighth such summit of city leaders. A key feature of the Alliance is that it supports its member-cities to mobilize individuals, governments, and all sectors of society to confront the many challenges of urban poverty and to share successes - and failures - with other cities.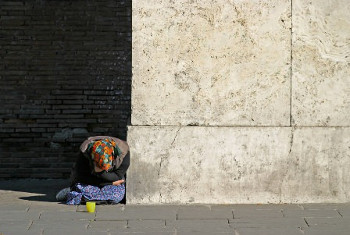 Woman on the streetDuring the WACAP 8th summit hundreds of best practices in reducing urban poverty will be presented. Cities from across Asia, the Middle East, Europe and the Americas will attend the Forum. For example, the City of Edmonton, Alberta will present how it eliminated the need for a garbage dump through aggressive composting and recycling programs. UNICEF, UN-HABITAT and UN Women will bring city delegates from Port Moresby, Quito, Kigali, New Delhi and Cairo to showcase their "Safe Cities Free of Violence against Women and Girls" initiative.
UN WOMEN Executive Director Michelle Bachelet said that no city could be considered safe, smart or sustainable unless half of its population – women and girls—could enjoy public spaces without the fear of violence. "Working with municipal leaders, WACAP8 can help ensure that women, youth and children are safe to fully enjoy the many opportunities that cities offer, she said."
The City of Geneva, Switzerland which hosted the Forum in 2000 recently joined WACAP's Executive Steering Committee and will be represented in Dublin by Ms. Esther Alder, member of the City of Geneva's Executive Council.
For more information on the Summit, and to register, visit the website http://www.dublin2013.ie/

Follow us on Twitter - @DigiPrintNews
Like us on Facebook www.facebook.com/dpnlive - click the 'LIKED' button/top of page as well
Copyright © 2013, DPNLIVE – All Rights Reserved