Third consecutive year company

has 'raised the bar' to achieve this award.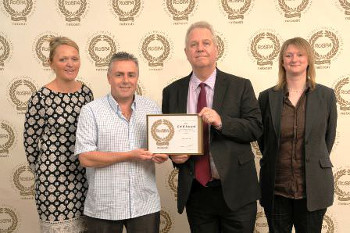 The Antalis team that received its Gold Standard award from RoSPA for the third consecutive year. L to R: Rachel Peacock - HR Operations Director, Antalis UK, Paul Edmans - Conversion Operative, Antalis UK, Mike Hann - Group Health & Safety Manager, Antalis UK, Julie Hayward - Health & Safety Advisor, Antalis UKFor the third year in a row, Antalis UK has achieved the highest 'Gold standard' award from the Royal Society for the Prevention of Accidents (RoSPA). The award was presented to Mike Hann, Group Health and Safety Manager at Antalis at the 2014 RoSPA Occupational Health and Safety Awards Ceremony, which took place at the Hilton Birmingham Metropole Hotel at the NEC, Birmingham
---
The prestigious annual RoSPA Awards scheme is designed to acknowledge and recognise commitment by companies to continuous improvement in accident and ill health prevention at work.
David Rawlins, RoSPA's Awards Manager, said: "The RoSPA Awards encourage the raising of occupational health and safety standards across the board. Organisations such as Antalis, that gain recognition for their health and safety management systems, contribute to a collective raising of the bar for other organisations to aspire to, and we offer them our congratulations."
Mike Hann, Group Health & Safety Manager at Antalis added: "This Gold standard accolade is a reflection upon the whole company for its efforts in continuing to strive for the highest standards in Health and Safety and is something for which we should feel very proud. While our year on year performance demonstrates an excellent track record for health and safety at Antalis, we must all actively continue our efforts to make our workplaces as safe as we can for all of our people by avoiding all unsafe acts and provide a safe working environment."
For further information go to www.antalis.co.uk
See www.rospa.com/awards/ for more information about the RoSPA Occupational Health and Safety Awards.
Follow us on Twitter - @DigiPrintNews
Like us on Facebook www.facebook.com/DPNLive - (click the 'LIKED' button/top of page as well)