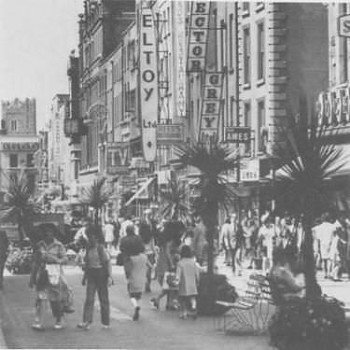 Henry Street Dublin 1970In 1970 I was 17 years old with one year left in school and no idea what I wanted to do with the rest of my life. Honestly, I never gave it a thought. It was all about "NOW": long hair, music, girls, havin' fun and ROCK & ROLL!!
When you're weary
Feeling small
When tears are in your eyes
I will dry them all
I started to write my own songs for the first time. Craftsmanship takes many years to develop but I needed my words to be heard! The band liked them so we played some at a few gigs. Oh! Booze suddenly came my way. Nothing crazy but a few beers became the norm. We all drank my mates and I.; it was just something everybody did. Then my hormones started to play there human part in my life. A hormone (from Greek ὁρμή "impetus") is a chemical released by a cell or a gland in one part of the body that sends out messages that affect cells in other parts of the organism. Oh boy! Do they ever play havoc with the emotions of teenagers both male and female? One minute you are friends, the next minute not talking and the next, you're madly in love. No-one in truth had a clue what was going on or why!
I'm on your side
When times get rough
And friends just can't be found
In 1970's Dublin I saw and felt the "real" world right in front of my eyes for the first time. We were used to hearing about world events on the radio or in our newspapers. But not in Dublin!  Suddenly one big story was centre stage. The South African (Springboks) rugby tour of Britain and Ireland in 1969/70 caused huge protests and disturbances. I was vaguely aware of it but when the all-white Springboks came to Dublin in January 1970, they were met by huge demonstrations and protests. The game which was to be played in Landsdowne Road went ahead - a 9-9 draw. It was played in front of a tiny audience, enclosed behind barbed wire which had been erected to prevent protesters from disturbing the game.
The Irish Anti-Apartheid Movement organised thousands in protests throughout the South Africans' stay and the tour will be forever remembered not for the rugby but for the Irish opposition to the apartheid system of South Africa.
Like a bridge over troubled water
I will lay me down
Like a bridge over troubled water
I will lay me down
I was now beginning to see the world outside, now right on my door step. It had a profound effect on me. Life would never be the same.  Both Dublin and I drifted into the 1970's no longer innocent and insular. Both the city and I were growing up and about to take our place in the big bad world". There was optimism for the future yet a feeling that things would never be the same again.
This was born out on May 4th, 1970 with the news that four students on the campus of Kent State University, Ohio, USA had been killed by National Guardsman for exercising their constitutional right of peaceful protest. The Vietnam War had come home to Middle America. It had also come home to me and millions of young teenagers. The protest song was about to take one giant leap out of the coffee houses and into its rightful place in history.
I wonder who they are
The men who really run this land
And I wonder why they run it
With such a thoughtless hand
Dublin as a city continued to grow. The suburbs marched endlessly on through Greenfield sites.  I started to socialise at night in town with my friends. This was something new and invigorating. I met new friends sharing music and wonderful ideas for the future with them.
We were full fledged hippies, the old ways were the past and we believed we could change the future. The jury is still out on that one. One thing is for certain though: the 60's were over. For Dublin and the five O'Driscoll brothers, the 70's would be different! Very different indeed! The city, and the O'Driscolls were entering the real world for the first time and that would have a lasting effect on all of us, even to this day.
Number One Songs 1970
| | |
| --- | --- |
| Dave Edmunds | I Hear You Knockin |
| Jimi Hendrix Experience | Voodoo Chile |
| Matthews Southern Comfort | Woodstock |
| Freda Payne | Band Of Gold |
| Smokey Robinson and The Miracles | Tears Of A Clown |
| Elvis Presley | The Wonder Of You |
| Mungo Jerry | In The Summertime |
| Christie | Yellow River |
| England World Cup Squad | Back Home |
| Norman Greenbaum | Spirit In The Sky |
| Dana | All Kinds Of Everything |
| Simon and Garfunkel | Bridge Over Troubled Water |
| Lee Marvin | Wandrin Star |
| Edison Lighthouse | Love Grows |
We five O'Driscoll brothers began to move in different directions, ultimately finding our own paths in life on the streets of Dublin. Each of us had our own treasured memories of the 1960's to help us along. I hope you do as well.
It's been a long road and a hellava good one! One day my story of the 1970's might be told. You just never know.
Fast forward to March 2012! What's on!
St. Patrick's Festival
16th March 2012 – 19th March 2012
Website: www.stpatricksfestival.ie
The Guinness Storehouse St. Patrick's Festival
Venue: Guinness Storehouse
16th March 2012 – 18th March 2012
Website: www.guinness-storehouse.com
All Ireland Club Championship Final
Venue: Croke Park Stadium
17th March 2012
Website: www.crokepark.ie
Dine in Dublin Restaurant Week
26th March 2012 – 1st April 2012
Website: www.dineindublin.ie
TALK TO ME!  What's happening in your world? Love to hear from you near and far.  I welcome your comments and email's. (This email address is being protected from spambots. You need JavaScript enabled to view it.)
Slán go fóill,
MOD
Copyright © 2011, DPNLIVE – All Rights Reserved