Unique creative project brings together

international photographers and digital artists.
---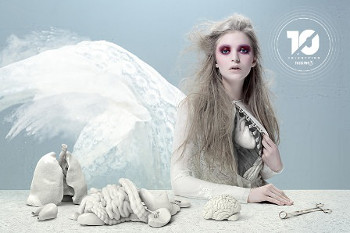 Image by Mateusz Chmura & Lucia Giacani Mutoh Belgium has announced that it is partnering with Fotolia, one of Europe's leading microstock agency and image bank, for the third season of Fotolia's 'TEN' Collection Campaign.
---
This is a creative, digital and educational project created by Fotolia in 2011, and its aim is to democratise digital art. Every two months, the TEN Collection involves an internationally renowned photographer and an equally renowned graphics artist who are tasked with creating a unique piece of art in which they expose their vision of the future.
An interesting aspect of the collaboration is that these artists have never met or worked together previously. They are uniting to share the artistic know-how that brought them international recognition.
Each of the created works of art is released bi-monthly on the TEN Collection website and made available for free for a period of 24 hours for web users and graphics designers to download the layers, graphics elements and style effects.
To make the campaign more interesting, each release is also followed by a contest, whereby professionals and amateurs can submit their own interpretations of the digital works of art, thereby challenging the artists.
The latest work of art involves a collaboration between designer Mateusz Chmura and photographer Lucia Giacani which will become available on May 10th.
On the 10th of July, September and November, the other files will be available as a free download for 24 hours from www.tenbyfotolia.com.
"Mutoh is very pleased to support the Fotolia TEN Collection project, which promotes innovation and artistic expression around the globe" said Nick Decock, Mutoh Belgium's commercial marketing manager.
"Many Mutoh wide-format printer users regularly use Fotolia royalty free images for high quality outputs for various applications such as sign & display, photo reproductions and soft signage. At Mutoh we are also using Fotolia XXL images for our wide format printer demonstrations."
"There is a nice link between Fotolia's and Mutoh's activities. Whereas Fotolia aims at democratising digital art, part of Mutoh's philosophy is to support art projects to demonstrate the quality of our printers and at the same time to introduce the potential of wide format digital printing to a wide variety of artists and professional photographers." concluded Decock.
www.mutoh.eu
www.fotolia.eu
Follow us on Twitter - @DigiPrintNews
Like us on Facebook www.facebook.com/DPNLive - (click the 'LIKED' button/top of page as well)
Copyright © 2014, DPNLIVE – All Rights Reserved.