Press release from the issuing company.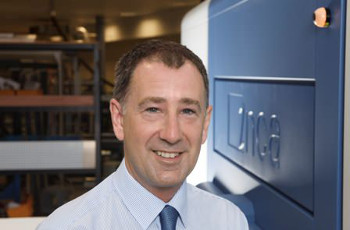 John Mills2nd April, Cambridge, UK - Inca Digital, the inkjet printing specialist, today announces the appointment of Dr John Mills as CEO with immediate effect.
John has extensive experience of developing and commercialising advanced industrial technologies, specifically in the fields of inkjet and plastic electronics. Holding a PhD in Physics, his senior roles have included Director of Development with Domino Printing Sciences, Vice President and COO at Plastic Logic and, for the last four and a half years, CEO of DataLase.
John is looking forward to making a contribution at Inca and says "Inca Digital is a world-class company at the forefront of digital printing technology and I am very excited about working with such an experienced team to take the company to even greater success. Inca changed how the industry produced wide-format print and we have the potential to develop 'game -changing' digital print solutions that provide considerable production value and efficiency to new markets."
Commenting on the appointment, Nigel Puttergill, Inca Chairman, said "It's a great pleasure to welcome John to Inca. He brings considerable strategic, operational and commercial expertise to the company and he will be instrumental in guiding and growing the business."
Bill Baxter will remain on the Inca Board along with the other serving officers: Yoshinari Otani, Chief Operating Officer; Stephen Tunnicliffe Wilson, Director of R&D; Dominique Marciniak, Finance Director and Nigel Puttergill, Chairman
Follow us on Twitter - @DigiPrintNews
Like us on Facebook www.facebook.com/DPNLive - (click the 'LIKED' button/top of page as well)