Roland DG UK & Ireland Sales Director, Brett Newman, promoted to Managing Director.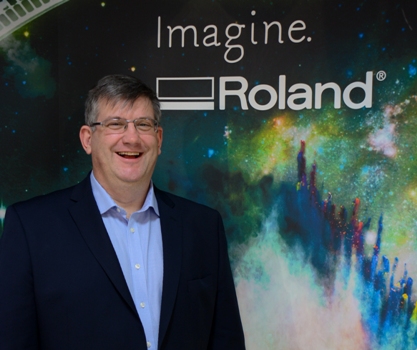 Roland DG Brett Newman
Roland DG has announced that Brett Newman has been appointed to the role of Managing Director of Roland DG, UK & Ireland, effective 1 April. He replaces Jerry Davies, who after 14 years as UK Managing Director, has been promoted to the position of Managing Director of Roland DG EMEA.
Commenting on his new position, Newman said, "I have long been passionate about the print industry and Roland's role in it as a pioneer and innovator, so I am immensely proud to now be leading the UK business and look forward to building on the tremendous success we've achieved under Jerry's leadership. Being appointed to the position of Managing Director is the pinnacle for many in their careers, it is certainly something I have long aspired to, and it genuinely feels incredible to have achieved it. Roland DG has always put people at the heart of everything it does, we've built our core proposition around people, passion and products, enabling customers to get the most out of the technology they have invested in. This is the key to a healthy business and an ethos I intend to maintain."
Newman has been with Roland for 14 years, starting out as an engineer and has over this time, held every major senior management position at Roland DG, including the roles of Product, Sales, Technical and Marketing Director. As the new Managing Director, he will be responsible for the company's UK and Irish sales, service and marketing operations, retaining his position on the UK Board of Directors, and working closely with Jerry Davies in his new role as Roland DG EMEA Managing Director.
Davies, Managing Director, Roland DG EMEA added, "I've had the pleasure of working with Brett for over 14 years at Roland DG and have seen him flourish and grow into an outstanding advocate for our industry. He has a level of technical and market knowledge that places him amongst the very best in the industry. I am very confident he is exactly the right person to be at the helm of this business and steer it towards the many exciting opportunities the UK and Irish markets will present over the next few years."
And, it appears that there is also now more than one Newman determined to carve out a successful career in the industry. Mr Newman's son, Gareth, has just taken up the mantle for the next generation, having recently secured a role as print operator, with Reflex Sales and Marketing, where he is responsible for running a Roland SOLJET PRO 4 XR-640 wide format inkjet printer/cutter. "It seems my passion for the industry didn't stop at the door of the office. Over the years, I must have spent so much time talking up the industry out of hours, it's convinced my son to join it as well!" said Newman.
Davies concluded, "I've always aimed to build a supportive, inclusive environment at Roland DG where your career path can match your ambitions. There is no better evidence of the success of this than Brett – someone who came in as an ambitious engineer, worked his way up to every senior management role in the company and has now become Managing Director. I think it's a very proud moment for everyone at the company, and a clear sign of what is possible here if you have the commitment, passion and drive to succeed."
For more information, please visit www.rolanddg.com.
You can Tweet, Like us on Facebook, Share, Google+, Pinit, print and email from the top of this article.
Copyright © 2015, DPNLIVE – All Rights Reserved.