Great to look at but do they pose environmental difficulties
---
The typical Irish urban garden is composed of peat, paving and imported exotic plants. However, all three pose environmental difficulties. The peat is derived from a finite source, our 'precious bogs' which are under threat, paving can cause water run-off problems and flooding and exotic plants can spell disaster in the wild and drive out our native species as happened with the azaleas and rhododendrons imported into Irish gardens over one hundred years ago. These plants can also disrupt the pollination process.
---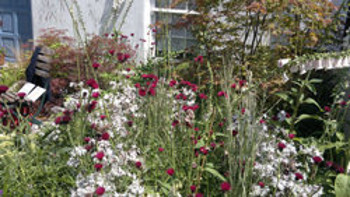 Green-Room-garden---Bloom-2012Environmentalists tell us we have to find alternatives but our love affair with all three shows no sign of abating.
At this year's Bloom, a number of show gardens offered a more ecological focus for our gardens using nature-friendly plants and materials. Bloom, the annual festival of gardening held in the Phoenix Park in Dublin, is a showcase for professional Irish gardeners and a hot house for new ideas.
Gold medal winners Patricia Tyrell and Deirdre Prince created the Green House a delightful space filled with native Irish plants and a flower-laden bicycle parked at the gate.
'A lot of front gardens tend to be paved over these days,' Deirdre told me. 'They're not very inviting and they contribute to a lot of water run-off and don't create any areas for wildlife.'
The two women, both landscape gardeners, were inspired to create an urban garden that would address these problems. They used native plants and permeable pavement to slow down run-off and instead allow it to slowly release into the groundwater. Rainwater was harvested in a barrel, and the roof of a bin storage unit doubled as a herb garden showing you can have planting anywhere. 'We hope we have created a space that's inviting and also environmentally friendly,' Deirdre added.
The house façade and the walls surrounding the garden were built using salvaged and recycled building materials. And the bike at the front was there to remind people that there are alternatives to the car.
Fiann O'Nuallain is a Bloom veteran and an ardent promoter of native Irish plants and trees. Last year, his garden caught the eye of the incumbent President Higgins and out of their conversation about how art and gardening merge grew his 2012 exhibit Stream of Consciousness.
'The day after Bloom 2011 closed,' Fiann told me, 'this year's garden was in train. All the plants were 'wild-crafted,' that is grown from seeds in the wild. The Hazel trees come from Kerry. Other plants and trees were grown on farms in Antrim.'
His garden, a 'bronze age meadow, reproduces examples of Irish landscape – wetlands; woodlands; peatlands. You won't find any peat compost in it or imported flowers. He uses nectar-rich native plants to attract bees and host plants for butterflies to lay their eggs on. Fiann hopes that both amateur and professional gardeners will follow his example
A number of other gardens at the show also took an environmental theme. The Cinema garden planted by fourteen students from Dundrum CFE drew on the silent film era and had as its centrepiece a recycled 'casting' couch planted with grass. Departures, a garden with the concept of emigration, used only recycled materials such as the wrought iron salvaged from the old Jervis Street Hospital. The REHAB Changing Perspectives garden contained only native Irish plants.
All of these gardens show that even the smallest of green spaces can contribute positively and sustainably to the environment as well as being aesthetically pleasing.
Rose Comiskey