A Compostable Screening Material Currently Approved and Available Commercially.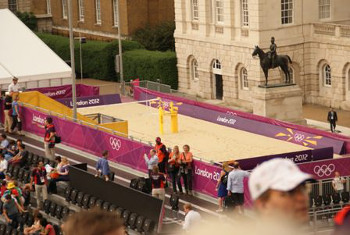 NatureNetting at London Olympics 2012UK based Ceres Media International PLC; a specialist materials company producing natural biodegradable materials for the print industry has released details of a new environmentally friendly material, NatureNetting™.
It is a compostable plant based natural netting with high tensile strength and excellent covering characteristics.
NatureNetting™ was developed in response to the demand from clients for an environmentally friendly material that would provide a robust screen yet still allow some visibility for security purposes. It took the technical team at Ceres five months to move from concept to a finished product and the company has commented that clients are now ordering. CERES MEDIA say the product has high density mesh and allows water and air to pass through it freely, is stable under all weather conditions and does not distort when wet. The product can be dyed to most pantone colours using Azo free dyes and can be made fire retardant (compliant to BS5867, BS5438 and BS7837) without affecting in any way the composting characteristics which makes it stand out when compared to other materials that are currently used for this purpose.
The natural material from which the product is derived is obtained from annually renewable sustainable sources and is processed into the finished material using a low carbon process to maximise the product's environmental credentials. The main raw material is an annual cash crop for small farmers around the World. According to the United Nations Food and Agricultural Organisation (FAO) some four million farmers earn their living from this raw material and support 20 million dependants on the proceeds mainly in developing countries.
Unlike plastic alternative products, NatureNetting™ is made from materials that are natural, compostable, biodegradable and above all from made from annually renewable sources. Following the end of its intended purpose, the netting can be disposed of in an anaerobic digester in situ or transported to a central composting unit where it will compost within two-twelve weeks depending on ambient conditions. The material's biodegradable and compostable credentials are in accordance with relevant US and European standards for a natural fertilizer and soil conditioner, conforming to the European standard EN13432 for biodegradability and qualifying NatureNetting™ for the Certification of Biodegradability and Compostability register maintained by Din Certco. These are the two main regulatory authorities for products of this nature and allow Ceres Media International plc to commercialise NatureNetting™ around the world.
Commenting on the addition of the new material to the Ceres portfolio, Alex Dowdeswell, CEO of Ceres Media International said "We have taken this product from inception to generating revenues within 5 months. A number of outdoor event organisers are already in discussion with Ceres to supply the new material during this financial year.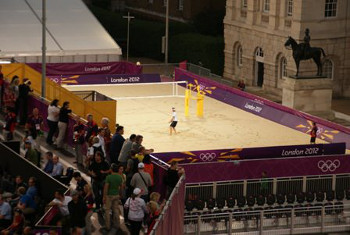 NatureNetting at the 2012 Olympics Our market research and requests from our clients showed the need for such a product for music festivals and sporting events up and down the country and across Europe. Using our proprietary materials knowledge we were able to create a robust and sustainable product to exacting specifications desired by the end users. NatureNetting™ can be manufactured to clients exacting specifications, gives great covering capability, allows visual inspection and can be safely disposed of when finished, which is a significant improvement over the materials that event's organisers are currently forced to use. We are very excited about this new product and can see NatureNetting™ adding significantly to the growing revenues of the company."
*Based on a press release from the issuing company