California's Record Drought may only be just beginning.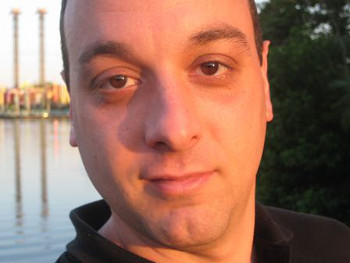 the look of a curious mindCalifornia has grabbed many headlines in recent months due to the record drought conditions being experienced there. In fact, last year was the driest year in more than a century in that region. California is one of the most productive regions in the entire world when it comes to agriculture. This area is the largest food producer in the United States and yet, has only has 4% of its total farms. Over 450 crops are grown in California and in such mass quantities that make it the largest exporter of almonds in the world, the 4th largest wine region, responsible for over 80% of the US strawberry production, and the largest supplier of fruits and vegetables accounting for half of all crops.
The world has seen more than its fair share of record droughts in recent years and when it happens in one of the most productive regions in the world, it certainly will have an impact. How dry has it been exactly? A rain gauge on the campus of USC (that is also monitored by the National Weather Service) recorded 3.6 inches (9.14 cm) in 2013, significantly lower than the 4.09 inches (10.4 cm) recorded in 1953.
B. Lynn Ingram, a paleo-environmental researcher at the University of California at Berkley believes that California has had its driest season in 500 years. By analyzing tree rings, she notes that the last time it was this dry was 1580. Droughts are not uncommon to California. The region has seen its fair share of them in the past 1000 years. Some of these have lasted 10 to 20 years and one even lasted 240 years. Since this is the third year of the current drought cycle, many are concerned at the prospect of a 10 year drought.
Much of California experiences cycles of rainy seasons in colder months followed by a dry season in the warmer months. Late spring and early summer bring about such an excessive dryness that massive forest fires become commonplace. By the time the rainy season starts, rainfall causes excessive flooding and mudslides. A lack of rainfall during the past rainy season is not the only concern as California enters its dry season; lack of snow also raises some eyebrows as well. The Sierra Nevada Mountains average a snow depth of 30 – 56 (.76 – 1.4 M) inches during the winter months. The depths recorded during the current winter show an average depth of 12% of the normal average. The previous recorded low was 21% in 1991 and 1963. The melting snow that flows into streams and reservoirs is heavily relied on by cities and farmers as it accounts for 1/3 of the water used.
B. Lynn Ingram, a paleo-environmental researcher at the University of California at Berkley believes that California has had its driest season in 500 years. By analyzing tree rings, she notes that the last time it was this dry was 1580.
California Governor Jerry Brown has declared a state of emergency and is calling for residents to conserve water as much as possible. He declares that he cannot make it rain but can prepare for consequences of drought. Residents are being asked to cut water use by 20% including watering lawns 10 minutes per day on certain days and restaurants are being asked to not serve tap water. Farmers account for 80% of the state's water use and are forced to adapt. Many are adopting the more efficient method of irrigation. Flood irrigation, which uses gravity to water crops, has been the most commonplace due to low cost and minimal effort, but drip irrigation is gaining ground due to its increased efficiency. State and Federal wildlife officials have even come up with a plan to move hatchery raised salmon by tanker to the ocean. The move is a precaution if the Sacramento River dries up and becomes inhospitable for fish and depleting the food levels. Typically the fish are released in April and May. Some farmers adapted their methods but found themselves in a position where they had to let their crop die because they did not have enough resources to save them.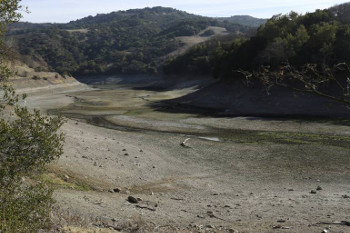 This is the Almaden Reservoir. It is nearly dry and California Governor Jerry Brown declared a drought emergency. The dry year of 2013 has left fresh water reservoirs with a fraction of their normal water reserves.While many are wondering how long will this current drought last, some researchers believe that the past century may be the wettest in the past 7000 years with dry being the norm. If drought conditions continue, fields will produce less yield and lead to higher food prices all across the US and possibly other places as well. While agriculture accounts for only 3% of California's economy, the effects of a long term drought could be devastating.
By Daniel Steiger
This email address is being protected from spambots. You need JavaScript enabled to view it." mce_' + path + '\'' + prefix + ':' + addy34209 + '\'>'+addy_text34209+'<\/a>'; //-->

Follow us on Twitter - @DigiPrintNews
Like us on Facebook www.facebook.com/DPNLive - (click the 'LIKED' button/top of page as well)
Copyright © 2014, DPNLIVE – All Rights Reserved.