The benefits of original Mimaki inks further emphasised by latest GREENGUARD GOLD Accreditation.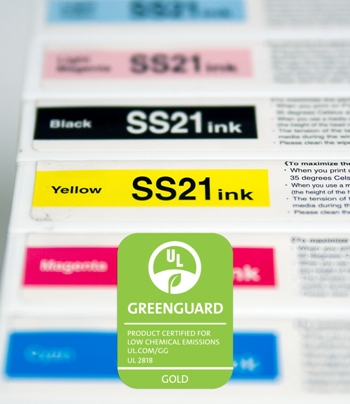 Mimaki Inks attain GREENGUARD GOLD AccreditationMimaki, a leading manufacturer of wide-format inkjet printers has announced it has received the GREENGUARD GOLD Certification for market leading inks, such as SS21, LX101, LH-100, LUS-150 and LUS-200.
The certification demands stricter criteria and considers safety factors to ensure that a product is acceptable for use in environments such as educational and medical facilities. GREENGUARD Certification is part of UL Environment, a business unit of UL (Underwriters Laboratories). As an ISO-IEC Guide 65:1996 accredited, third-party certifying body, the Greenguard Environmental Institute issues the GREENGUARD Certification to help manufacturers create - and help buyers identify - superior products and materials that have low chemical emissions, the aim of which is to improve the quality of the air in environments in which the products are used.
GREENGUARD Certification requires stringent emissions criteria to be met in addition to verification of numerous other technical requirements before certification can be awarded. After initial certification, on-going testing, documentation, and verification processes are required for demonstration of consistent product performance.
"In order to comply with the GREENGUARD requirements, a company needs to invest in extensive R&D efforts and ongoing commitment to develop the most technologically advanced, as well as the safest inks," commented Mike Horsten, General Manager Marketing EMEA at Mimaki Europe. "The reach of Mimaki products is growing at a phenomenal rate. This certification offers us, our customers and the general public peace of mind and extra assurances that our print solutions are entirely suitable for a wide range of applications, including those in schools, healthcare or similarly sensitive environments."
Horsten concluded: "This certification follows the achievement of OEKO-TEX® skin contact accreditation and re-affirms our commitment to enabling customers to be proactive and creative in a wide range of different market sectors, without any concerns about the safety of the inks they are using."
More details about Mimaki and its product portfolio can be found via Hybrid Services Ltd - the company's UK and Irish distributor at www.hybridservices.co.uk.
You can Tweet, Like us on Facebook, Share, Google+, Pinit, print and email from the top of this article.
Copyright © 2015, DPNLIVE – All Rights Reserved.