New ink offers a unique option

within the latex printer market.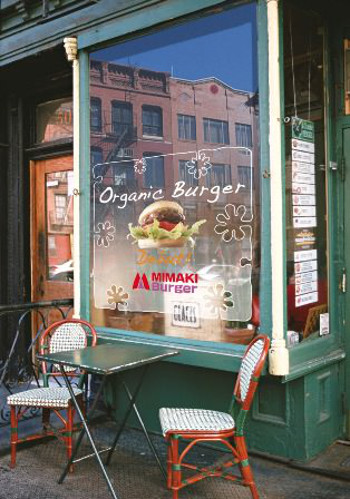 Mimaki latex white ink makes window graphics easy Mimaki has announced that it's much expected white ink for the companies JV400 latex printer is now available. It said the new ink offers a unique option within the latex printer market and that the vibrant and highly opaque white ink works alongside Mimaki's high gamut four colour process inks. The ink is also compatible with the JV400-130LX and JV400-160LX wide format printers.
Mimaki pointed out that when used in conjunction with the latest version of its RasterLink RIP software, three-layer printing is achievable. This enables print providers to create two-way viewed graphics making it a perfect solution for producing window graphics and retail signage onto clear substrates. There is high quality registration between process and white layers to ensure an attractive and high colour result, with the white layer providing the necessary backing for each layer of colour.
The Mimaki JV400 range of latex printers are marketed as featuring strong eco credentials alongside a piezoelectric print head that fires variable drop sizes. Mimaki states that this allows for the production of high quality print onto a broad range of substrates.
Distributed in the UK & Ireland by Hybrid Services Ltd; national sales manager, John de la Roche, welcomes the availability of the new colour. "Adding creative tools for our customers ensures they are able to generate new profit areas. The Mimaki latex printer range already provides a broad creative capability, but the addition of the unique white ink means our customers can deliver exciting new products onto clear substrates with a vibrant colour yield."
Available now, the white ink is supplied through Hybrid's network of authorised Mimaki latex resellers. For more information contact Hybrid on 0044 (0) 1270 501900 or visit www.hybridservices.co.uk

Follow us on Twitter - @DigiPrintNews
Like us on Facebook www.facebook.com/dpnlive - click the 'LIKED' button/top of page as well
Copyright © 2013, DPNLIVE – All Rights Reserved