German print company's decision for new productivity

software based on EFI's scale and people.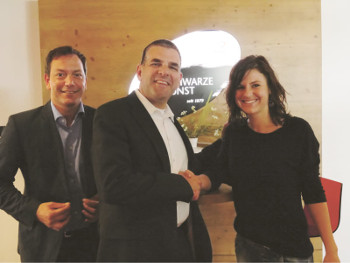 Pinsker Druck und Medien's Conny Pinsker (right) with EFI's Guy Gecht (middle) and Matthias Nettekoven (left)Munich commercial print company Pinsker Druck und Medien has confirmed it has decided to invest in EFI™ Pace and EFI Metrix following a rigorous investigation into the market for upgrading its existing MIS. The company is primarily a Heidelberg pre-press and press-based business, with digital print capability provided by a HP Indigo printer. The decision was based on the need for an efficient MIS capability which it believes can be delivered by Pace next-generation productivity software, complemented by Metrix's print planning and imposition technology.
Pinsker Druck und Medien's managing director Conny Pinsker investigated alternative options before confirming her decision to invest in EFI's software. She decided that the efficiencies of Pace's all-encompassing MIS capabilities and Metrix's powerful imposition and layout features were exactly what her company needed. Pinsker was particularly impressed with EFI's structure, its philosophy regarding its acquisition strategy, and its wide experience across all industry sectors and print technologies.
Having made a recent visit to the company, EFI's CEO Guy Gecht commented: "At EFI we are thrilled that our productivity software is the best choice for this impressive-growth company and that we will play an important role in the vision of Pinsker Druck und Medien's development and future."
The fifth generation in her thriving family owned business, Pinsker's dynamic beliefs in taking her company into the future was the key to choosing Pace and Metrix. "We wanted to update our existing MIS software because it was 20 years old and not giving us sufficient flexibility," she explained. "In addition to improving our efficiency in the long term, it's also crucial that we instigate a smooth change-over that doesn't affect our production operations - we are confident that we can trust EFI to make sure that there are no disruptions. We also need a system that we won't have to change again in the future, and that will grow with us as we expand and continue to invest in new technology."
Pinsker also believes that EFI has the people and power to bring new innovations to the market, and respects the way it is very close to all companies working with analogue, digital and wide-format equipment. "But, as machines and processes get faster and faster, I believe that manufacturers forget about administration which must be able to keep up with production speeds," she added.
Pinsker Druck und Medien runs five Heidelberg Speedmaster offset presses; digital print is provided by an HP Indigo with a second due for delivery shortly. Specialising in jobs that include and go beyond everyday print applications, including complex precision colour register work, the company relies on its technology and highly qualified teams to supply round-the-clock production across all departments.
Follow us on Twitter - @DigiPrintNews
Like us on Facebook www.facebook.com/DPNLive - (click the 'LIKED' button/top of page as well)
Copyright © 2014, DPNLIVE – All Rights Reserved.