Designed to showcases product qualities.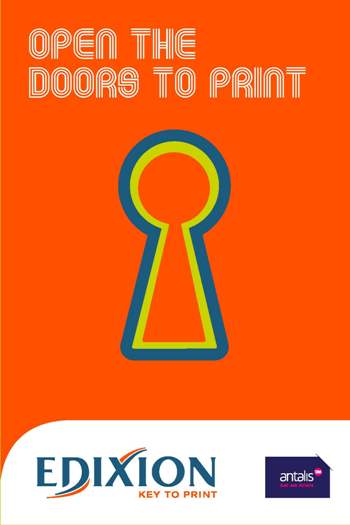 Edixion_Open The Doors To PrintAntalis UK has produced a new swatch for its Edixion Offset and Edixion Laser paper, in order to highlight the benefits of this uncoated range.
The swatch showcases the range of grammages available in Edixion Offset – from 60gsm to 350gsm and Edixion Laser - 80gsm to 120gsm. The range is also available in twin pallets for small format, designed to save time and stock optimisation.
Antalis maintain the range offers high bulk and opacity, good whiteness and even surface, so from their perspective, it's ideal for everyday printed jobs including direct marketing, pre-printing, magazines, annual reports and other marketing collateral.
The company commented that the pulp used for the production of Edixion papers is a unique selection of top-quality short fibres for surface printability and opacity, and top-quality long fibres for mechanical resistance and stiffness. It added that therefore, Edixion is perfect for high speed printing and very long runs, whatever the paper size or grammage.
Like many of the paper products distributed exclusively by Antalis, Edixion is compliant with all the main environmental and industrial certifications including FSC certified and EU Ecolabel.
Commenting on the new swatch, Product Manager at Antalis Rob Chandler said: "The new swatch allows customers to see at a glance the full range whether they are looking for an offset or pre-print grade. It also contains samples of each quality."
To request one of the new swatches please contact your local sales office on 0044 (0) 870 607 9014 or visit www.antalis.co.uk
To see other articles relating to Antalis UK please go to http://www.dpnlive.com/index.php/component/search/?searchword=Antalis%20UK&ordering=newest&searchphrase=exact&limit=20&areas%5B0%5D=content
You can Tweet, Like us on Facebook, Share, Google+, Pinit, print and email from the top of this article.