---
Ricoh has announced plans to designate June as "Ricoh Global Eco Action Month" to encourage Eco Actions by Group employees around the world. As part of the plan, the company turned off the lights on all billboards, Ricoh logo signboards and night lighting facilities at all Group companies around the world on the night of June 5th, which was dedicated by the United Nations as World Environment Day. The eco-powered billboards in New York (Times Square), London, and Sydney were excluded.
---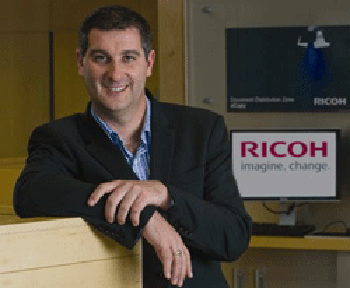 Chas Moloney director Ricoh UK and Ireland"Ricoh Global Eco Action" began in 2006 as an environmental event to enhance and develop awareness among company employees worldwide. The concept was designed to specifically promote environmentally friendly actions by individuals. Ricoh said that the theme of the seventh year is "THINK & ACT ON YOUR OWN".
Ricoh is encouraging employees to individually focus on energy conservation at work and at home, host and participate in environmental events, and take other actions that reflect their concerns for the environment. Ricoh says that this is another way of expanding its environmental conservation movement from Group employees all the way out to families, friends, business partners as well as clients.
The eco-powered electronic billboards which were excluded from the signage 'switch off' represent one measure being undertaken to "expand the circle of global environmental conservation."
The initiative is based on the idea that even if the billboards don't light up and fulfil their functions as signage due to weather, Ricoh's hopes that the message the billboards convey will raise environmental awareness and lead to a sustainable society.
Experimental lighting began in April 2009, and following the completion of the first billboard at Times Square, New York in 2010, additional billboards were installed last year in London and Sydney. The average combined power generation of the three sites has been calculated at approximately 150,000 watts/hr per day.
Ricoh is building upon the company's Sustainability Optimisation Programme, designed for the office, by offering the Carbon Balanced Printing Programme as a service specifically for commercial printers. Both programmes are accredited by the British Standards Institution (BSI) and focus on helping businesses to reduce impacts wherever possible and offset unavoidable carbon emissions through carbon credits generated by clean energy projects in which Ricoh has invested.
Chas Moloney, director, Ricoh UK and Ireland says: "We have always considered our impact on the world and demonstrated corporate social responsibility, so much so, that it is ingrained into our corporate values and integrated into the very heart of our operations. By dedicating the month of June to raising environmental awareness among our customers, suppliers and employees, we can make a real and positive change to the environment, further helping our clients to be more profitable and sustainable at their own sites as well as taking action in our own operations."
For further information, please visit
Copyright © 2012, DPNLIVE – All Rights Reserved