Sustainable digital textile solutions on show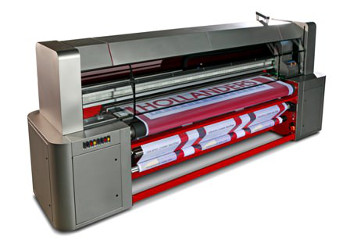 HPS ColorBooster XL digital textile printerIt's been announced that Eindhoven-based Hollanders Printing Systems (HPS) will participate as a founding exhibitor at EcoPrint in Berlin in September. The company, a specialist manufacturer of wide-format digital textile solutions, is keen to demonstrate how its philosophy incorporates environmentally aware targets in its Best Practice Workflow and believes this new event is the ideal opportunity to showcase them.
HPS will be joined by three of its key Competence Centre partners at the event – colour management specialist X-Rite/Pantone, viewing booth manufacturer GTI and Georg+Otto Friedrich, a leading European manufacturer of fabrics for digital printing. With support from other Competence Centre partners such as Enfocus, EFKA and Q-Lab, HPS has said that it will introduce the full cycle A-to-Z workflow approach that includes solutions for every step in the digital textile production flow. It also confirmed that full information will be available about the environmental benefits of working with fabrics to create eco aware soft signs, banners, flags, interior décor and other applications.
"EcoPrint gives us the ideal opportunity for showcasing our Competence Centre and Best Practice Workflow initiative, in-line with more environmentally aware practices," commented Roland Biemans, Sales and Marketing Manager at Hollanders Printing Systems. "We know that brand owners, marketing specialists, specifiers and end users are all eager to work within greener parameters, and this new event offers a unique, practical focus on sustainability."
HPS says its system encompasses all the hardware and software needed for printing digital textile applications. The company collaborates with specialist partners to unite their expertise in pre-press, colour management, finishing and materials. Its Competence Centre is designed to provide customers with a complete understanding of how sustainability and effective work-flow combine to give end users greater control over their environmental performance and consistently accurate high quality output.
Hollanders Printing Systems manufactures turnkey solutions for digital textile printing. The range includes its ColorBooster digital textile printers complemented by the ColorFix sublimation/fixation unit, the ColorWash washing machine and the ColorEdge cutting unit. The company stated that its modular approach to production is designed to simplify work-flow and generate greener practices as the machines use less power and water than traditional systems, with waste being minimised.

EcoPrint takes place on the 26 and 27 September.

Copyright © 2012, DPNLIVE – All Rights Reserved