Latest technologies and services on show to reduce the environmental impact of printing.
---
Ricoh Europe has said it will showcase the company's latest technologies and services designed to help commercial and corporate printers reduce the environmental impact of their printing activity at EcoPrint Live 2012, Berlin on 26 and 27 September.
---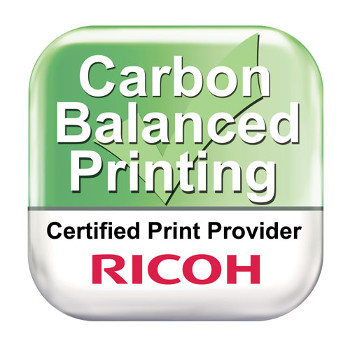 Ricoh Carbon Balanced Printing MemberGraham Moore, Business Development Director, Ricoh Europe commented: "Since the announcement of our new Carbon Balanced Printing Programme earlier this year and our environmental focus at drupa 2012, we have received an overwhelming response from the market," said Moore. "EcoPrint will allow us to further demonstrate our continued commitment to helping print service providers improve their sustainable approach. We will highlight how the strong link between our expanding range of eco-business initiatives - for commercial printing organisations, in-house corporate print room facilities and office printing environments - improves resource efficiency, processes and costs."
Ricoh's Carbon Balanced Printing Programme for print service providers is built on the companies Sustainability Optimisation Programme, which offers carbon balanced printing to the office market. The programme calculates the carbon footprint of each print job, enabling the print service provider to reduce or optimise production where possible. Any remaining, unavoidable carbon emissions are offset through carbon credits.
Rioch maintains that as a result, customers can ensure that all printed materials produced on Ricoh printers are carbon-neutral and environmentally responsible. A new carbon calculator has been launched to help print service providers calculate and minimise carbon emissions for their clients' print jobs. It has been introduced as part of the continually enhanced Business Driver Programme that provides continual sustainability advice and guidance for production printing customers.
To demonstrate the company's growing eco-based technology portfolio, Ricoh will also show the Ricoh Pro L4000(tm) that features the next-generation piezo-electric print heads with durable aqueous latex ink. This also offers significant media support on a range of substrates and is ideal for the environmentally conscious buyer of printed signage, point of purchase and indoor and outdoor display. It will be available in North America and Europe in the first quarter of 2013.
Ricoh will showcase product lifecycle initiatives including reusability of remanufactured printers (Greenline), recycled system supplies and recycled media.
Ricoh confirmed that it will take the opportunity to illustrate how its cut sheet digital press systems have recently achieved International Association of the Deinking Industry (INGEDE) certification. This lays out the required criteria, regarding the removal of printing ink from recovered paper during the paper recycling process, have been met.
Visitors can also hear more about the importance of sustainability in product development via the show's innovators panel. Ricoh Europe's Graham Moore will participate in the panel debate hosted on the first day of the show.
Visitors interested in seeing Ricoh at EcoPrint can gain free access to the show via the company's registration site at http://worldregistrationsystems.com/fmbrooks_ric_visreg-2.htm.
Copyright © 2012, DPNLIVE – All Rights Reserved