Mimaki dye sublimation printer used to print O'Neills manufactured kit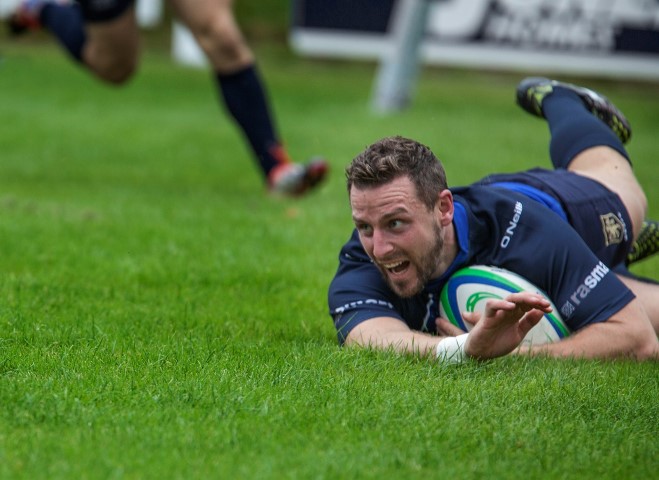 Macclesfield Rugby club's players sport team strips manufactured by O'Neills, using Mimaki print technology and bearing sponsor R A Smart's brand.Magnus Mighall, who is a Director of R A Smart, is an ex-Macclesfield Rugby Union Club player.  He decided to sponsor Macclesfield RUFC for the 2015-16 season.  R A Smart of Bollington is just outside Macclesfield and is a major reseller of Mimaki textile print equipment.  Magnus is well aware of the important role that the club plays in the local community.  He said
"Sport provides a fantastic opportunity for young people to extend and develop themselves in all sorts of positive ways and the club has always believed passionately in nurturing players throughout their journey from Mini to Junior and Youth Rugby and eventually into the senior game from where the National stage beckons. Here at Smarts we're delighted to be able to play our part by becoming sponsors of the first team kit."
R A Smart operate a substantial collection of Mimaki printers alongside other digital print hardware and work with some of the biggest names in sportswear and fashion.  R A Smart is regarded as one of the UK's leading digital and screen print facility for the textile industry.
In recent years the company has installed state-of-the-art systems for customers throughout the UK, covering a vast array of applications.  It has been one of the real pioneers of digital print technology for textile.  O'Neills is one of Ireland's leading sportswear manufacturing companies and Mighall is keen to acknowledge their additional involvement and support of the club.
Speaking about O'Neils, Magnus said:
"O'Neills was one of the earliest adopters of digital print technology in sportswear production, operating a significant number of Mimaki machines in its factories.  We are fortunate to work with such a dedicated and professional operation in developing this technology further in the sector – it's really exciting to be able to jointly support Macclesfield RUFC."
O'Neills provides kit to the first, second and third teams at Macclesfield with a strong match day presence through pitch-side advertising.
Macclesfield Rugby club's players sport team strips manufactured by O'Neills, using Mimaki print technology and bearing sponsor R A Smart's brand.As a result of O'Neills' increasing demand; additional Mimaki printers are currently on order with R A Smart to add further capacity during 2016.  The Mimaki dye sublimation printers preferred by O'Neills are extensively used as production machines in the sportswear and fashion markets.
The development of digital textile print has been the creator in the production of ever more colourful, eye-catching and creative team apparel without the need for labour intensive weaving, stitching or embroidery of the custom elements.
David Wilkinson is the Commercial Director at the club.  He said that he is delighted to have the support of two such enthusiastic and committed sponsors, commenting;
"Both R A Smart and O'Neills have made a tremendous contribution to the club. We really appreciate the support from Magnus and his company, especially with his long-standing affiliation to the club, and we're particularly proud to have O'Neills on board given their well-deserved reputation at the forefront of branded sportswear production."
The O'Neills name is legendary in Ireland and it is using this opportunity to further raise its profile at grass roots level outside of Ireland.
From its origins in the early 1900's as a manufacturer of Gaelic footballs, O'Neills now supplies kit at the very highest levels to champions across a wide range of sports including Gaelic Games, football, rugby, boxing, cricket, basketball, athletics, the Special Olympics, hockey, and netball.
Paul Houston from O'Neills Commented on the relationship with R A Smart and Macclesfield RUFC. He said:
"The relationship which we have developed with both Mimaki and R A Smart and the long term support provided by both companies has allowed us to grow with confidence and develop new market opportunities. We are equally delighted to be associated with Macclesfield Rugby Union Club and wish them success as they head into this season and in the future." 

Magnus concludes, "It seemed extremely appropriate to harness the power of digital print as part of our sponsorship of the club and we look forward to enjoying a successful season together."