Recognition for Innovative design of Landa Nanographic Printing™ Presses.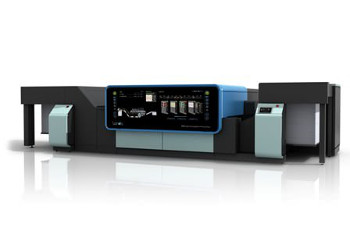 Landa S10 Nanographic Printing PressLanda has been presented with the prestigious GOOD DESIGN award for its Landa Nanographic Printing™ Presses from the Chicago Athenaeum, a Museum dedicated to the art of design in all areas: architecture, industrial, product design, graphics, and urban planning. According to Christian K. Narkiewicz-Laine, President and CEO of the museum, it received submissions from several thousand of the world's leading manufacturers and industrial and graphic designers for this celebrated award. The GOOD DESIGN award program is considered the oldest and most recognized program for design excellence, and was created in 1950 by architects Eero Saarinen, Charles and Ray Eames and Edgar Kaufmann, Jr.

"We designed the Landa Nanographic Printing™ Presses not only to address short-to-medium run lengths, but also to remake the printing press user experience for a new generation," says Benny Landa, CEO and Chairman of Landa Corporation. "We worked hard to make our Nanographic Printing press appeal to the digital print marketplace of 2013 to 2030, and beyond."
"Our goal was to translate Landa's Nanographic Printing revolution into a breath-taking piece of equipment that could redefine the meaning and identity of commercial printing – all within the context of the user profile," explains Elisha Tal, Principal and Owner at I2D, a Tel Aviv-based industrial design firm that worked with Landa on the design of the press.

The sleek design of the printing press features an unprecedented 10-foot (3-meter) wide touchscreen for operating the device. A distinctive cyan-colored frame surrounds the screen and visually connects the press to the Landa brand.

The GOOD DESIGN award program is organized annually by the Chicago Athenaeum and the European Centre for Architecture, Art, Design and Urban Studies. Last November, the program's jury met in New York and selected 700 product and graphical designs from over 38 countries. Past award winners include 3M, Apple, Bang & Olufsen, CISCO Systems, Daimler AG., Lenovo, Logitech, Porsche and more.
http://www.chi-athenaeum.org/gdesign/

Follow us on Twitter - @DigiPrintNews
Like us on Facebook www.facebook.com/DPNLive - (click the 'LIKED' button/top of page as well)
Copyright © 2013, DPNLIVE – All Rights Reserved.