The Land of The Free bans the Irish Flag.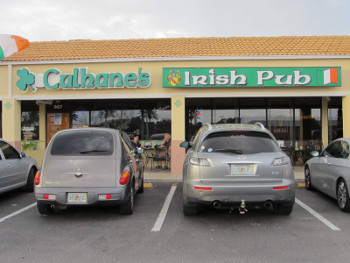 Culhanes PubIt seems that America is not quite as free as we all thought, at least regarding flags anyway.The owners of an Irish pub in Florida said they were shocked to receive a citation for flying the Irish flag. They had to remove it to comply with a local ordinance banning commercial display of non-U.S. flags.
Culhanes Irish Pub in Atlantic Beach, south of Jacksonville, is owned by the four Limerick born Culhane sisters, Michelle, Lynda, Mary Jane and Aine for the past eight years. For that time, they have flown both the tricolour and the American flagoutside their pub and were shocked when code enforcement officers gave them a citation on 20thFebruary. It said they had 24 hours to "cease display of flags other than the American flag."
The ordinance was passed in the 1990s as part of the administration's attempt to clean up an unsightly commercial area. The language was vague, however, and the ordinance banned all flags, except for the U.S. flag.
"I'm shocked. This is America, the land of every nationality,'' said Michelle, "I couldn't believe they made us take down our own flag"
City officials told them that an amendment to change the law is in the works, but won't be enacted until after St. Patrick's Day. So that means that they won't be able to fly the Irish Flag on the biggest day of the year, St. Patrick's Day.
The ordinance was not noticed until a Greek restaurant was cited for flying a Greek flag that partially blocked a footpath. It complained that they had been singled out, and the Culhanes were told their Irish flag had to come down as well, the acting mayor, Maria Marks, said.
News reports about the incident reached all the way back to Ireland, which provoked a flood of letters and emails, many of them accusing the city of bigotry.
Maria said that some of them "were really, really nasty".
The City officials must have got the message about the stupidity of the law and have proposed amending the ordinance to allow the flying of national flags, but the revision process requires a couple of readings and cannot be finished until April or May, Maria said. In the meantime, enforcement has been suspended.
"Everyone can fly their flag as long as it's not interfering with a right of way or creating a safety hazard," she said.
So the Culhanes can fly the tricolour again for St. Patrick's Day.
By Bob Tallent
Follow us on Twitter - @DigiPrintNews
Like us on Facebook www.facebook.com/dpnlive - (click the 'LIKED' button/top of page as well)
Copyright © 2013, DPNLIVE – All Rights Reserved.