New LED inkjet roll-to-roll device to offer market leading high-end imaging.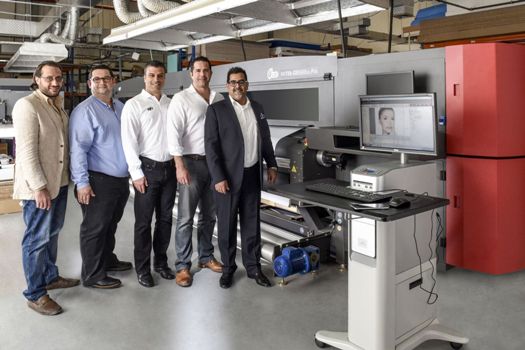 From left Mohamed Shawer- General Manager NDigitec DigiPrint, Vatche Kavlakian - CEO NDigitec, Massoud Saad of local EFI VUTEk distributor SAGA Digital; Mehdi Berrada Baby of SAGA Digital DMCC, and Imran Zafar of EFI
NDigitec, a Middle East creative production company which is experiencing significant growth, has purchased an EFI VUTEk® GS5500LXrroll-to-roll LED inkjet printer. The main reasons for investing in the printer, according to NDigitec executives, were quality, reliability and "green" LED technology.
Based in Dubai, UAE, NDigitec is a leading provider in the Middle East for prepress, premedia, fabrication, digital printing and web-to-print solutions through its portal Dubaiprint.com. NDigitec DigiPrint, the company's digital printing arm, provides small to large-format printing services, including indoor and outdoor banners, roll-up banners, point-of-purchase displays, exhibition displays, sample table services, 3D printing and more.
The purchase highlights the company's business slogan "A promise is a promise", which it uses to tell customers that it promises and delivers solutions and services to them under all circumstances.
"We think of our reproduction of graphics as a work of art. We combine traditional know-how with modern methods to create precise detail within our customers' stipulated timeframe," commented NDigitec CEO Vatche Kavlakian.
With resolutions up to 1,000 dpi, the eight-colour VUTEk printer provides NDigitec with the precision and detail it requires in every print as Kavlakian explained.
"We chose the machine because it has unprecedented dot quality that is unseen in the marketplace."
NDigitec also operates a 2.5-metre hybrid UV inkjet printer and had been on the look-out for a product that would help the company continue to meet growing demand for premium-quality graphics. The new, 5-metre VUTEk printer, which gives the company greater versatility in high-volume, roll-to-roll production, will be used to produce high-quality prints for all indoor and outdoor large-format projects and Dubaiprint.com online orders.
"This printer offers a blend of unique technology and supports our effort to go green, and the reliable EFI brand name helped strengthen our decision," said Mohamed Shawer, General Manager of NDigitec DigiPrint. "EFI's innovative LED -cool curing- technology consumes significantly less energy than other UV printers, saving money as it reduces environmental impact. "
According to Shawer, experience with the EFI Fiery® digital front end for inkjet was another reason for choosing the EFI system.
"We also use EFI's colour management and RIP software as part of our prepress and digital printing value-added processes," he said.
For more information about NDigitec, please visit www.ndigitec.com. or, to place print orders online, visit www.dubaiprint.com.
For more information about digital inkjet production printing with EFI VUTEk printers, visit www.efi.com.
You can Tweet, Like us on Facebook, Share, Google+, Pinit, print and email from the top of this article.
Copyright © 2016, DPNLIVE – All Rights Reserved.