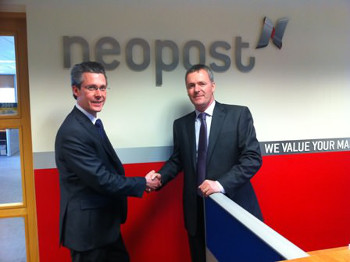 L R Duncan Groom (PFE) is officially welcomed by Cathal O'Boyle MD Neopost IrelandNeopost Ireland, a leading provider of end-to-end mailing solutions has announced the acquisition of Print Finishing Equipment (PFE).
The acquisition was made to enhance Neopost Irelands future growth and performance and to position the company as one of the countries leading suppliers in the graphics and print finishing market.
PFE brings in market-leading solutions from well known suppliers such as Duplo, Roland, Eurofold, Komfi, Drytac and Fuji. The company has a well established base within the print Industry in Ireland and is regarded as one of the leading suppliers within this sector.
"Neopost Ireland is delighted to announce this acquisition" states Cathal O'Boyle, Managing Director, Neopost Ireland. 'PFE is a leading supplier of solutions to the print sector, which represents a huge growth opportunity for Neopost. In addition, we believe we can grow the graphics / print finishing business throughout Ireland and offer the best levels of customer care through our combined service team of 17 people and our ability to finance equipment through Neopost Finance"
"We are delighted with the move" states Duncan Groom who together with all PFE staff will remain with the business. "The move offers us a huge opportunity to grow our business with greatly increased service offering and a combined service team of 17 people. We will now also be able to offer Neopost finance on our machinery which will increase our ability to do business in the current climate."
Tel: 00353 (0) 1 01 6250900
Copyright © 2012, DPNLIVE – All Rights Reserved