Reprocentre to host Agfa Open Day

on 26th February 2014.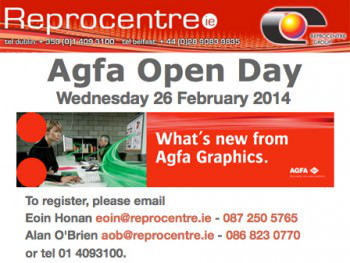 Agfa Open DayReprocentre, one of the largest suppliers of wide format and graphic arts equipment in Ireland has announced that it will hold an Agfa Open Day in Bewley's Hotel, Newlands Cross, Naas road, Dublin 22 on Wednesday 26th February.
The theme for the event is 'What's new from Agfa Graphics' and Eoin Honan, sales director at Reprocentre explained a little about the event.
"Reprocentre and Agfa decided it was a good time to run an Apogee Workshop in Ireland" said Honan. "We still have a sizeable database of existing users, and Apogee, the first true PDF workflow in the world is now at Version 8 32/64bit, with Apogee 9 64bit due for release later this year. Timing seems right; customers are starting to look again at investing in their workflow and press, adding in additional features such as web approval, business to business and business to customer storefront solutions. JDF and MIS integration has progressed now to a real workable product and Apogee has added functionality to drive page digital and wide format printing printers. It's a very powerful tool, and we are not only inviting existing Apogee users but would welcome users of other workflows to come and see what we have to offer. They will be surprised at how Apogee has developed."
For further information please visit http://reprocentre.cmail2.com/t/ViewEmail/t/15BE66395741CAEC/C0DA90B86FDD263A0F8C96E86323F7F9

Follow us on Twitter - @DigiPrintNews
Like us on Facebook www.facebook.com/DPNLive - (click the 'LIKED' button/top of page as well)
Copyright © 2014, DPNLIVE – All Rights Reserved.