Innovative stand design created using Soyang

Europe's recently launched G-Floor product.
Quarmby Colour's stand for Great Lengths fused the latest flooring technologies with a stunning backlit backdrop UK based Quarmby Colour's recent exhibition stand installation for leading hair extension provider, Great Lengths, combined innovative new materials with spectacular design to deliver an arresting and visually memorable stand for show visitors.
---
When the company was contacted by Great Lengths to produce their stand graphics for the Manchester Central's annual Pro Hair Live event, they knew it was an opportunity to show off their design capabilities along with some superb new technology and media. Involving a giant lightbox and innovative flooring using Soyang Europe's recently launched G-Floor product; the design, creation and installation of this project led to an unforgettable stand at the show.
Family run Quarmby Colour Studio Ltd is a one-stop graphics service provider based in Leeds, with two generations worth of experience and a vast collective of skills, creativity and equipment. Set up in 1994, and currently run by father (Ron) and his two sons (Damien and Darren), the company occupies 8,000ft2 premises and has a workforce of 10 staff, with quality, reliability and personal service at the heart of what it does.
All aspects of the design and print process are carried out in-house, and servicing big name clients, such as Adidas, The BBC and Formula 1, Quarmby Colour has invested in high end UV printing technology, which includes a Vutek GS3200, and has a very strong creative relationship with leading printable media suppliers, Soyang Europe, who supplied one of the first shipments of the new G-Floor product to allow them to produce the graphic.
The bespoke stand for Great Lengths was the first UK installation of G-Floor; an innovative new printable, clear flooring that can be reverse printed – ensuring a non-slip wear layer to show off the design beneath. A 3m x 5m lightbox with state-of-the-art lighting technology was used as the backdrop for the stand and this seamlessly flowed into a 3m x 5m printed floor area, which was itself illuminated by the lightbox and wowed the crowds.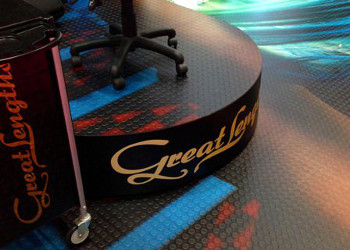 Soyang G-Floor was used to cover the floor area of Great Length's stand at Pro Hair Live "Our customer was over the moon," explains Damien Quarmby. "We were all delighted with the effect as it stopped people in their tracks and allowed us to deliver the stand our customer had imagined. G-Floor gives us the opportunity to not just print floor graphics, but beautiful and imaginative graphic floors that help create an all-encompassing show stopper at exhibitions."
"G-Floor gives printers the opportunity to include clients' imagery, brands and surface patterns in their flooring," confirms sales director at Soyang Europe, Andrew Simmons. "Quarmby Colour's imaginative use of the product delivered a spectacular result for their client. It's always a pleasure to see how our creative partners get the best out of our materials."
For further information about the range of media available from Soyang Europe their website can be found at www.soyang.co.uk. Quarmby Colour's products and services are at www.quarmbycolour.co.uk
Courtesy of UV Creative Ltd on behalf of Soyang Europe
Follow us on Twitter - @DigiPrintNews
Like us on Facebook www.facebook.com/DPNLive - (click the 'LIKED' button/top of page as well)