Dennison Group appointed to bring

fast response to service calls and support.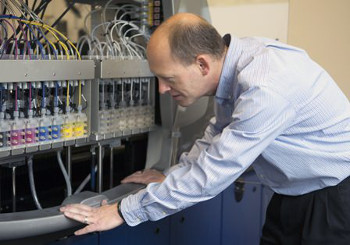 Nikolaus Nowak, Service and Logistics Manager, EMEA, at Kornit Digital EuropeKornit Digital has restructured its after sales operation in the UK and Ireland by appointing the Dennison Group to handle its complete service and support cycle for new and existing customers. The move is designed to bolster the continuing growth in demand for all Kornit's direct-to-garment printers, also covering installation, training and routine maintenance.
The Dennison Group was chosen for its high level of experience in providing specialist services for users of industrial and commercial ink-jet printers. This new agreement will provide Kornit's customers with what the company said was 'highly experienced staff' to care for machine installations, hot-line support, site visits and preventative maintenance. Engineers from Dennison have gone through an extensive training and certification program at Kornit Digital and are now accredited with full certification that gives them official authorisation to work with the company's technology.
"We want to be in the position to react and respond quickly to any type of queries and installation requests. Using a specialist company with long-term experience in industrial ink-jet devices fits in perfectly with our customer care objectives," explained Nikolaus Nowak, Service and Logistics Manager, EMEA, at Kornit Digital Europe. "The majority of enquiries can be solved with our telephone support team but, where more than remote assistance is required; we now have dedicated engineers that can be dispatched quickly to the client site. This minimises possible down-time, and also simplifies routine scheduling of maintenance, and warranty and post-warranty issues."
Roy Milner, Managing Director of the Dennison Group, added: "We are completely committed to the quality of service we provide and are delighted to partner with Kornit Digital, the leading manufacturer in digital textile printing. The Dennison Group has more than 20 years experience within the digital printing industry, and our network of manufacturer trained technicians is ideally placed to deliver high quality service to all Kornit Digital customers."
As part of the new agreement with the Dennison Group, Kornit will now hold a parts' stock in the UK for faster availability of spare parts and is also providing improved skilled installation services to customers. To ensure that the company's printers work flawlessly from the outset, on-site training is also offered at varying levels, tailored according to user requirements and experience. In the mid-term, Kornit is also offering yearly maintenance packages and service contracts at what it deems 'affordable prices' that will help to ensure printer reliability and uptime.
Kornit Digital's extensive range of direct-to-garment printers all incorporate the company's NeoPigment process and ink system, designed for reliable and cost-effective production. From the entry-level Breeze through to the high production Avalanche, all machines are designed for 24/7 operation.
Specialist reseller Adelco will continue to handle sales throughout the UK alongside Lineker Machines, appointed in 2013 to become an authorised Kornit reseller in the UK.
http://www.kornit.com/
Follow us on Twitter - @DigiPrintNews
Like us on Facebook www.facebook.com/DPNLive - (click the 'LIKED' button/top of page as well)
Copyright © 2014, DPNLIVE – All Rights Reserved.