Company purchases printer through

Mimaki SUV demo centre and reseller, PaperlinX.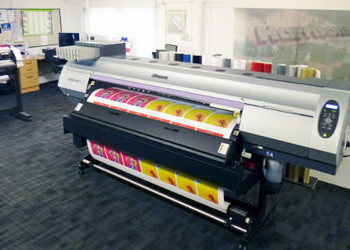 Investment in the latest Mimaki SUV wide format printer is delivering a competitive edge for Harrisons SignsUK based Harrisons Signs recently made the decision to invest in a new Mimaki SUV wide format printer. The investment was made to facilitate future growth and meet increasing customer demand for fast turnaround jobs through optimising workflow and productivity. It made the decision after visiting one of Mimaki's reseller SUV demo centres.
Peter Robinson of Harrisons Signs explained: "With our current high workload, we were starting to see production bottle necks which we were keen to eliminate. Having used Mimaki printers since the early years of this century (a JV3 followed by a JV33 that is still providing great service) we eagerly accepted an invitation from PaperlinX to test drive the latest technology in its demonstration suite."
The company was extremely impressed with the quality of the output from the Mimaki SUV, and, coupled with its experience of the brand, placed an order on the same day.
Robinson said that the potential for cost and efficiency savings in all areas of production was one of the main reasons for its investment. "Whilst the new machine has only been in use for a couple of months, we are already reaping the rewards and expect a very early return on investment," he said.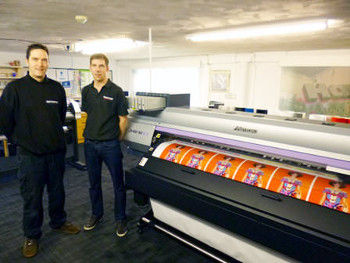 Peter Robinson (right) and Alan Wise (left) from Harrisons Signs with their new Mimaki SUV printerEase of use was another key factor in the decision. "With similar technology and interface coupled with valuable onsite training from PaperlinX, the transition was virtually seamless and delivered almost immediate production benefits," he added.
Of particular interest to Harrisons was the instantly dry print delivered by the new printer. "The speed of the whole job is an essential real-world calculation and with this we've got new found flexibility. Much of the time, we're cutting out post-print processes such as laminating which makes us more competitive and efficient."
Robinson estimates that the business has realised an efficiency gain of around 25 per cent and the new technology has enabled it to offer customers additional services. "A 30m print run might previously have taken as long as 4½ hours to output, the new SUV reduces this to around 3-3½ hours, which is a significant time saving," he said.
"And, we've got new products coming off the Mimaki SUV such as 1.5m pull-up banners. We don't need to laminate because of the toughness of the inks; the colours jump off the media and they're quick to produce. In addition, without the need for drying or degassing of the print output, it gets trimmed and fitted into the cartridge, the instant it comes off the printer".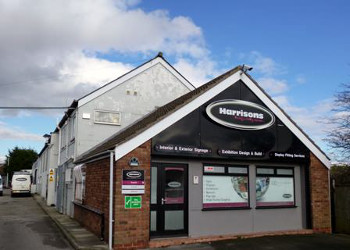 New Mimaki SUV Delivers Competitive Edge For Harrisons SignsAccording to Robinson, these new found efficiencies have become a key factor in customer retention; something he sees up his supply chain as well down. "We've worked with PaperlinX for 13 years as a preferred supplier and the relationship we have with them is similar to what we strive for with our own customers," he said.
"Their 'can do' attitude, competitive pricing and the level of service and tech support we receive matches our expectations - it's nice to feel properly looked after!"
PaperlinX return to Sign & Digital UK in 2014 with a stand promoting its range of digital print solutions, including products from the Mimaki range. For more information or to pre-book a demo on stand, email: This email address is being protected from spambots. You need JavaScript enabled to view it." mce_' + path + '\'' + prefix + ':' + addy5751 + '\'>'+addy_text5751+'<\/a>'; //--> . The complete range of Mimaki products can be found at www.hybridservices.co.uk - the homepage of its exclusive UK and Irish distributor, Hybrid Services Ltd who also have a strong presence at the exhibition. Harrisons Signs website is www.harrisonsigns.co.uk.
Follow us on Twitter - @DigiPrintNews
Like us on Facebook www.facebook.com/DPNLive - (click the 'LIKED' button/top of page as well)
Copyright © 2014, DPNLIVE – All Rights Reserved.