Investment in EFI VUTEk GS3250LX Pro ups production,

quality and reduces costs.
---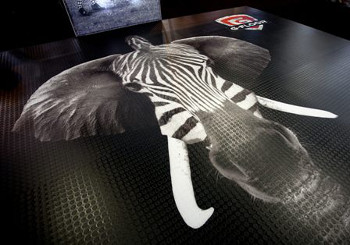 SuperWide Digital used its new EFI VUTEk GS3250LX Pro to print this dramatic floor graphic on Soyang G-Floor Clear CoinUK based SuperWide Digital has invested for the first time in an EFI™ VUTEk® GS3250LX Pro LED flatbed-roll-fed printer as a result of a significant move in production requirements. This comes on the back of nearly 15 years of experience working with wide-format printing machines from a range of different manufacturers.
---
The criteria for the North West England specialist trade supplier was for a machine which would deliver fast throughput on roll-fed and rigid materials, a highly opaque white ink, accurate colour and precision quality, with the inclusion of energy-saving LED curing being the catalyst for the purchase.
The company has grown steadily since 2000, primarily in the banner production market, but more recently into flatbed and soft signage segments. It has always believed that to try and mix trade jobs with end-user orders can compromise clients. SuperWide Digital's successful structure is based on working within the industry providing display companies, exhibition specialists, and offset litho and screen-printers with a full range of graphics produced using the right technology and on the most suitable materials.
Although SuperWide Digital looked at other wide-format printers during its current investment phase, the VUTEk GS3250LX Pro printer's LED curing ticked all the boxes perfectly in the company's drive to tackle energy costs and broaden production options. The 'cool cure' technology was also a plus for SuperWide Digital since it enables heat-sensitive and difficult media to be printed, and the flexible inks and excellent adhesion have extended the company's range of materials that can now be used for different interior and exterior applications.
"The service proposition was very important to us, but the LED curing technology was the clincher in the end," explained Luke Drogan, business development manager at SuperWide Digital. "The ability to print onto heat-sensitive materials has proved very important to us since installation, as has the extreme flexibility of the UV-curable inks. The VUTEk GS3250LX Pro will enable us to expand our business into new areas."
Drogan stated that not only did the VUTEk 3.2m flatbed and roll-fed wide-format printer have the technology being sought by SuperWide Digital, but also EFI was more accessible than other companies. "Contacts are easy to reach within the hierarchy, and we've had visits from senior management which makes us feel valued," he continued. "This is significant to developing the relationship, especially with this being the first machine we've bought from EFI. It feels more like we've been treated as a long-term customer."
SuperWide Digital maintain that moving into new markets is key to the company's continued growth, and added that the addition of the new wide-format printer has already opened new doors with its versatility and cost savings. For example, it can now output to very thin 120 micron film which would melt on a UV-curable machine using conventional lamps, and the adhesion and the flexibility of the inks means that jobs formerly produced on solvent-based devices can now be migrated to LED.
Other significant benefits noted by Drogan include the highly opaque white ink and overall throughput speed of the VUTEk GS3250LX Pro. Its greyscale technology is complemented by the Fiery® proServer DFE, with crucial rapid turnarounds now being achieved consistently.
Overall, SuperWide Digital believes the investment in the EFI VUTEk GS3250LX Pro has upped productivity and quality, with significant power savings realised by the printer's LED technology. "As part of our investment plan for this year we are tackling our energy costs, and the LED curing is a part of that, as is the replacement of our lighting with LEDs across the whole factory," Drogan concluded. "Between those two measures, we expect to reduce our energy bills for the year by £20,000."
www.efi.com
http://www.superwide.com
Follow us on Twitter - @DigiPrintNews
Like us on Facebook www.facebook.com/DPNLive - (click the 'LIKED' button/top of page as well)
Copyright © 2014, DPNLIVE – All Rights Reserved.