Special commission involved wrapping an

entire ship in commemoration of the First World War.
---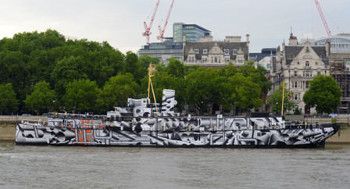 PressOn wraps HMS President to create "dazzle ship"PressOn, one of the UK's leading large format digital printers, has wrapped an entire ship, HMS President, in a specially commissioned "dazzle" design, as part of the commemoration of the First World War.
---
To help mark the centenary of the First World War, 1418 NOW, a company who are organising a number of events to commemorate the First World War, asked PressOn to wrap an entire ex Royal Navy warship, HMS President, in dazzle print camouflage vinyl. The HMS President's design was created by European artist Tobias Rehlberger, one of the most respected European artists of our generation. A stunning video of this process made by David Kew can be seen at the end of this article. The ship is now berthed by Victoria Embankment on the Thames until February 2015.
HMS President is one of three surviving Royal Navy warships built during the war and served as a dazzle ship in the First World War. The inspiration for the design came from the famous glaring colours and jagged lines of camouflage created to confuse enemy U-boat captains. Before radar, the designs served to confuse the enemy and mask the outline, speed and direction of travel of the ship.
The Royal Navy employed artists to paint anti-submarine ships during the First World War and the geometrically patterned boats were a familiar sight when hundreds of shipping convoys left Britain's ports. HMS President's transformation has been undertaken to help people remember the role these ships played in the country's wartime survival.
PressOn worked on the project in close collaboration with artist and design team on this extremely complex project, advising on materials and installation. The project involved printing on 2,000 sq. m of vinyl and was printed on PressOn's HP LX 3000. The installation was extremely challenging in terms of logistics, involving 12 installers working at height. It took 10 days to complete. One of the greatest logistic to overcome was fitting vinyl to a ship in rising and falling tides with installers working on a small boat circling HMS President.
Co-Founding MD of PressOn, Andy Wilson said;
"PressOn were honoured to be asked to contribute to marking the centenary of the First World War and to work on HMS President. It was an unforgettable project to be involved in and one we are very proud of."
More information:
About PressOn at www.presson.co.uk
About 14 18 NOW at www.1418now.org.uk/whats-on/dazzle-ships/
Feature courtesy of PressOn
Follow us on Twitter - @DigiPrintNews
Like us on Facebook www.facebook.com/DPNLive - (click the 'LIKED' button/top of page as well)