Soyang Europe appointed UK distributor

for Intercoat media range.
---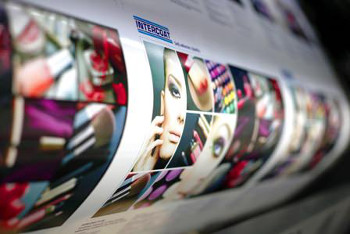 Intercoat's range of digitally printable self-adhesive media is being distributed in the UK by Soyang Europe.Soyang Europe has been appointed UK distributor by German based, large-format media manufacturer, Intercoat. The addition of this new media range is designed to strengthen the company's portfolio of products and ensure its customer commitment of having 'Every Surface Covered'.
---
Intercoat, a division of AMC-AG, has its manufacturing facility in Kaltenkirchen, Germany, and produces premium large format printing media. It regards the appointment with North West based Soyang Europe as a significant step forward in its aim to build a stronger presence in the UK market.
"Our appointment of Soyang Europe as Intercoat's distributor for the UK gives us greatly improved availability, an enviable level of stockholding and a partner entirely focussed on our product," said Holger Harms of Intercoat. "The opportunity to become Soyang's sole self-adhesive vinyl partner – and to be able to take advantage of its highly impressive warehousing and distribution model significantly benefits our brand as we seek to increase our market share."
"We're working with a really strong company," explained Mark Mashiter, Soyang Europe's managing director. "Intercoat manufactures quality self-adhesive vinyl suitable for use on latex, solvent and UV printers in a variety of finishes and is already the first choice of adhesive substrate for many UK printing companies. What we can offer is expert product knowledge, committed customer support and the capability to hold significant stocks that ensure next day delivery for all our UK customers."
"Soyang Europe's recent investment and expansion – including its new £2.1m distribution centre in the North West of England were central to us establishing the relationship," confirmed Harms. "We anticipate that Intercoat will really benefit from Soyang's strong business infrastructure and team of media specialists."
Intercoat joins innovative products within Soyang Europe's extensive portfolio of European, American and Far Eastern manufactured textiles, wallcoverings, floorcoverings and PVC products for the wide format and grand format sectors.
Full details on the company's complete product range can be found by visiting www.soyang.co.uk
Follow us on Twitter - @DigiPrintNews
Like us on Facebook www.facebook.com/DPNLive - (click the 'LIKED' button/top of page as well)
Copyright © 2014, DPNLIVE – All Rights Reserved.