Flatbed cutter from City and West End Solutions

purchased at Sign and Digital UK.
---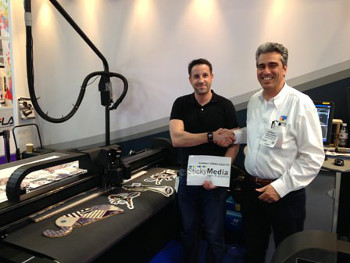 From left Sticky Media Managing Director Charlie Bukovets with CWE Managing Director Doug GilbertsonUK based Sticky Media Signs and Graphics has made a key investment in its in-house finishing capability with the purchase of a Summa F1612 flatbed cutter from City and West End Solutions (CWE), at Sign and Digital UK.
---
The Warwickshire Company prides itself on being a leading branding solutions provider for event builds, shop fitting, vehicle graphics, outdoor and indoor promotion, long and short term signage, and display systems.
The investment was made to enable it to produce to meet the growing diversity of its clients' needs.
Managing Director Charlie Bukovets said: "We've had a very productive first quarter to 2014, during which we expanded our range of HP digital latex printers so we can now print up to 3m wide and quicker too, to give us the leading edge against our competitors with compelling service.
"The flexibility and capacity of the Summa F1612 flatbed cutter will enable us to produce a diverse range of branding solutions and keep up with ever-more challenging and sophisticated client briefs.
"We hope the new Summa in conjunction with our HP Latex printers will also help us expand further into creating anything from a huge outdoor screen for a theme park, through to large P.O.S projects for major car dealership networks, with the superior contour cutting and print quality."
The Summa was installed a couple of weeks ago and Bukovets added, "It's worked well for us straight away and hasn't stopped."
CWE Managing Director Doug Gilbertson commented: "The Summa flatbed cutter is the perfect partner for a HP Latex printer. Together they really expand any print provider's range of indoor and outdoor applications to meet the demands of today's customers."
The Summa F series flatbed cutting tables are capable of cutting sheet and rigid materials as well as roll stock up to 165cm wide. Three tools can be inserted at any one time, and the automatic tool recognition, combined with digital and mechanical depth and pressure control, is designed to ensure precision cutting on a wide variety of materials.
Additionally, the drag module and Summa's integrated camera system also play a significant role in ensuring fast and accurate contour cutting of printed flexible or rigid substrate materials.
CWE highlighted HPs Latex print technology which it pointed out delivers consistently beautiful prints that dry immediately, with unrivalled versatility and outstanding quality coupled with high environmental standards.
For more information on Summa cutters or HP Latex printers call CWE Solutions on 0044 (0) 8444 829895
0044 (0) 8444 829895, email This email address is being protected from spambots. You need JavaScript enabled to view it. or go to www.cwesolutions.co.uk.
For more information on Sticky Media go to www.stickym.com
Follow us on Twitter - @DigiPrintNews
Like us on Facebook www.facebook.com/DPNLive - (click the 'LIKED' button/top of page as well)
Copyright © 2014, DPNLIVE – All Rights Reserved.